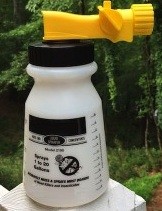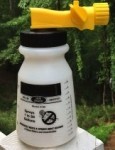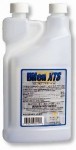 PRODUCT DESCRIPTION:      This concentrate is just about odorless, works on all insects, is highly concentrated and can be sprayed safely throughout the yard on turf and plants. Use a hose end sprayer to apply it over turf with the best sprayer being a 20 GALLON HOSE END. Pictured to the left is the 32 oz size which can treat 2-4 acres.
TARGET PESTS:        CICADAS     CLOVER MITES     CHIGGERS      GRASSHOPPERS        LOCUSTS        MILLIPEDES        SPRINGTAILS
USE DIRECTIONS:     The exact amount of Bifen needed will vary depending you target pests but the range is anywhere from 1 oz to to 4 oz per 10,000 sq/ft of turf.
So if you wanted to use it at the 1 oz per 10,000 sq/ft rate, add 1 oz of Bifen XTS to the hose end sprayer and fill with water. Hook the sprayer to your garden hose and use the entire amount to treat 10,000 sq/ft of turf.
When treating "tough" pests or when the target pest is in thick vegetation, add 2 oz of SPREADER STICKER to the sprayer whether you're using the 1 oz per 10,000 or the full 4 oz 10,000. In other words, the 2 oz of Spreader Sticker per filling of the sprayer will be sufficient.
Basically Spreader Sticker enables the Bifen to better "coat" treated areas and target pests. This will enhance the performance of the treatment resulting in faster kills, better coverage and overall, better results.
PRODUCT DOCUMENTS:          SPECIMEN LABEL          MSDS SHEET
$70.00  32 oz  (753985)(N/A TO NEW YORK)
Order online and save 5%


$210.00  128 oz  (756242)(N/A TO NEW YORK)
Order online and save 5%


RECOMMENDED SPRAYER:     20 GALLON HOSE END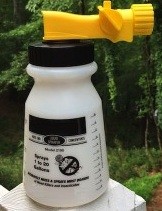 $18.00  (287531)(FREE STANDARD SHIPPING)
Order online and save 5%


RECOMMENDED ADDITIVE:     SPREADER STICKER – add 2.5 oz with every 4 oz of Bifen added to hose end sprayer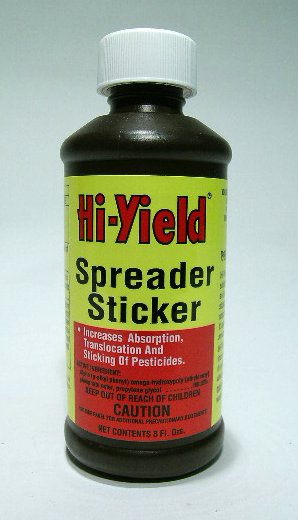 $6.00   (451035) 8 oz
Order online and save 5%



$10.00   (451039) 16 oz
Order online and save 5%



$15.00   (451040) 32 oz
Order online and save 5%



$50.00   (451037) gallon
Order online and save 5%



Supporting Video