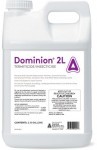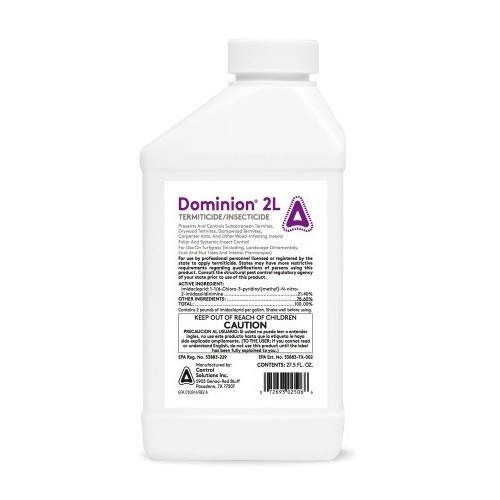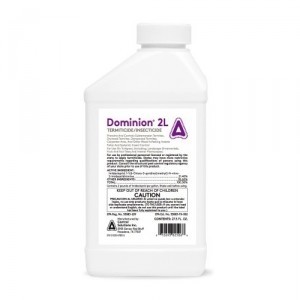 PRODUCT DESCRIPTION: Odorless material which is both easy to apply and effective on a wide range of pests. Generally used as a termiticide, this material is highly effective as a systemic for use on trees and shrubs in the yard.
WHERE TO USE IT: Inside the home subslab and outside the home for soil treating. Also around trees as a systemic.
RATE OF APPLICATION:        When soil drenching shrubs and trees, use .1 – .2 oz per inch of tree diameter.  So for a tree 10 inches wide, you'll need to use 1 oz of chemical using 6-8 gallons of water. Start by adding .5 oz to a 5 gallon pail filled with 3-4 gallons of water and slowly pour the solution into 5-10 holes made with a spike, a piece of rebar or pick ax.
The holes need to be made inside the tree's drip line and you'll need to do this at least twice meaning you'll need to apply 6-8 gallons of mixed solution using a total of 1 oz of Dominion.
The depth of the holes are not important; they just need to hold the liquid mixture so it doesn't move away from the tree. Also, the width is not important. Again, the holes are just there to hold the mixture.
Larger trees will require more material; call or email for help if you need assistance calculating how much product you'll need.
For termites, mix 1 oz in 2 gallons of water and apply the 2 gallons of mixed solution to every 10 feet of foundation around the structure. Dig a small trench prior to treating to insure the material stays in place during the application. Retreat every 5 years.
For flower beds, plant foliage and turf, .3 to .6 oz per gallon of water per 1,000 sq/ft will control most pests.
TARGET PESTS:   Termites, Adelgids, Ants, Aphids, Japanese beetles, Lace bugs, Leaf beetles (including elm and viburnum leaf beetles), Leafhoppers (including glassy- winged sharpshooter), Mealybugs, Psyllids, Sawfly Larvae, Thrips (suppression), Whiteflies and Woolly Adelgids just to name just a few.
RELATED PRODUCT:      20 GALLON HOSE END SPRAYER
PRODUCT DOCUMENTS:       SPECIMEN LABEL       MSDS
RELATED PRODUCTS:      DOMINION FRUIT & VEGETABLE .235%          DOMINION TREE & SHRUB 1.47%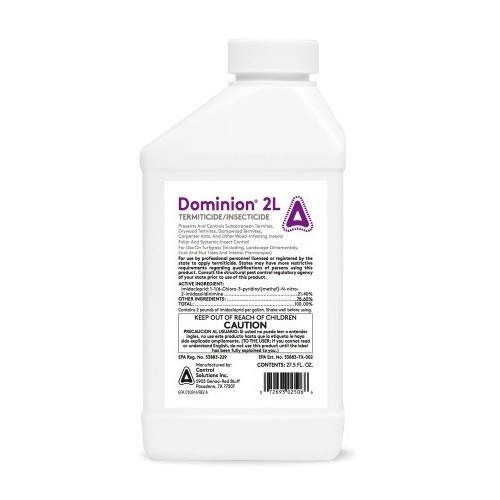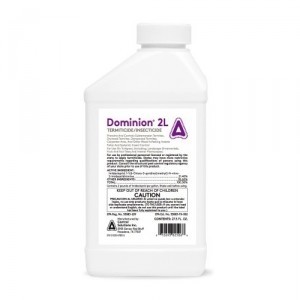 $65.00  27.5 oz  (21.4%)(455268)(2+ $62.00 ea)(FREE STANDARD SHIPPING)
Order online and save 5%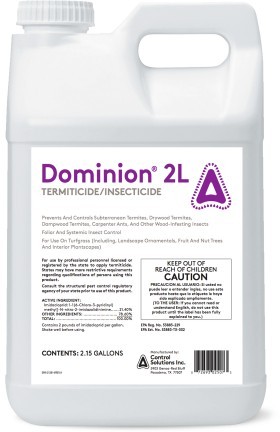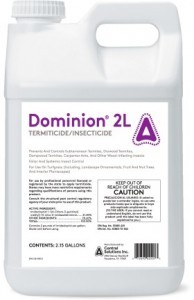 $395.00   2.15 Gal  (about 275 oz)(21.4%)(785499)(FREE STANDARD SHIPPING)
Order online and save 5%



Supporting Video