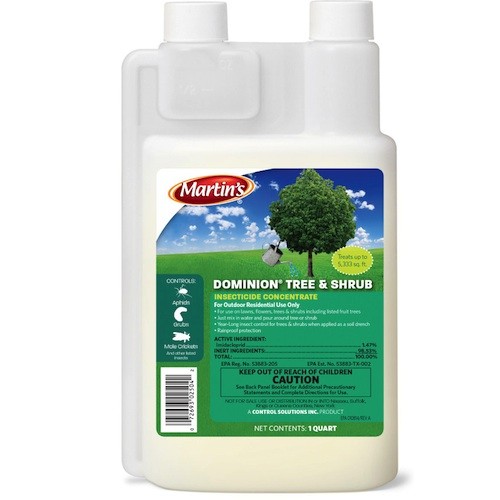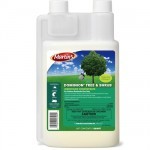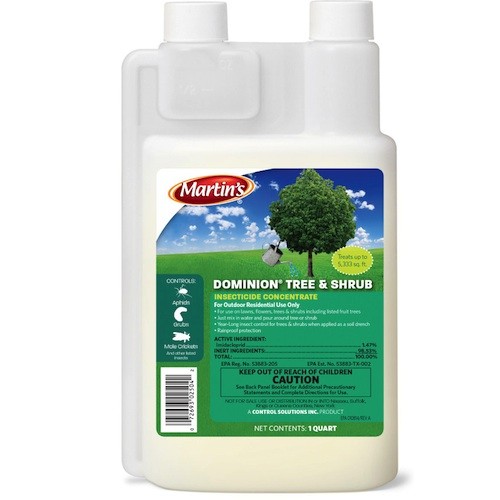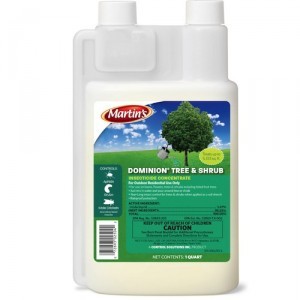 PRODUCT DESCRIPTION:      Odorless material which is applied to the soil around plants, trees and shrubs which works as a systemic. This formulation is designed for use on any tree and shrub including many fruit bearing species.
WHERE TO USE IT:     Inside or outside the home for shrubs and trees including several fruit and nut species. Now for vegetable or fruit plants, use the DOMINION FRUIT & VEGETABLE concentrate.
RATE OF APPLICATION:  Mixtures vary depending on the size of the tree canopy. See the label for specific rates for your tree or call for help in calculating.
TARGET PESTS:   Adelgids, Aphids, Japanese beetles, Lace bugs, Leaf beetles (including elm and viburnum leaf beetles), Leafhoppers (including glassy- winged sharpshooter), Mealybugs, Psyllids, Sawfly Larvae, Thrips (suppression) and Whiteflies to name just a few.
PRODUCT DOCUMENTS:         SPECIMEN LABEL       MSDS
RELATED PRODUCTS:       DOMINION 2L TERMITICIDE 21.4%          DOMINION FRUIT & VEGETABLE .235% 
$30.00  32 oz (1.47%)(455261)(FREE STANDARD SHIPPING)
Order online and save 5%


Supporting Video