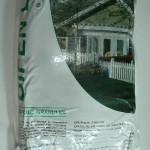 PRODUCT DESCRIPTION:    Sandy like treated granules designed to last longer in the rain and sun when applied to turf around the home. Once applied, the the active will release slowly over 30-45 days. During this time, dirt dwelling insects will be controlled and eradicated.
TARGET PESTS:    Just about everything including ants, centipedes, fleas, fire ants, millipedes, mole crickets, ticks, springtails, pillbugs, sowbugs, crane flies, turf weevils, webworms, billbugs, chinch bugs and more.
WHERE TO USE IT:    For use around the home in flower beds, grass, pine islands and mulch areas.
This short video shows how to apply these "sandy" like granules efficiently around your home with a "tip" that makes using them super easy!
RATE OF APPLICATION:    Conveniently packaged in 11 plastic jugs, 1 lb will treat 500-1000 sq/ft. So each jug can treat 5,500 to 11,000 sq/ft.
So lets say you wanted to treat a 10 foot band around your homes perimeter and each side of the home is 50 feet wide. You would need about 1/2 to 1 lb per side.
The rule to follow for the rate is to use 1 lb per 1,000 sq/ft if you are targeting pests in the ground like springtails, grubs or mealybugs.
For large crawling pests like ants, centipedes, ticks or sowbugs, use 2 lbs per 1,000 sq/ft.
HOW OFTEN SHOULD IT BE APPLIED:   This will vary depending on the local weather and pest problem. So for initial infestations, renew the granules once a month until they're gone. Once the problem is under control, treat once every 3 months to make sure the problem pest does not return.
RELATED PRODUCTS:        SCATTERBOX SPREADER      20 GALLON HOSE END SPRAYER      MAXXTHOR EC      BITHOR
PRODUCT DOCUMENTS:       SPECIMEN LABEL       SDS
$30.00   (11 lb jug)(453544)(n/a to NY)(3+ jugs $28.00 each)
Order online and save 5%



Supporting Video