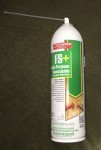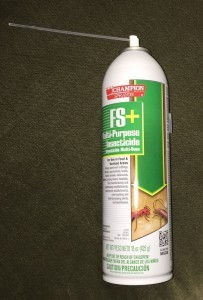 PRODUCT DESCRIPTION:   Fast working low odor residual aerosol which uses Esfenvalerate for an active. It comes with a handy crack and crevice injecting tube that allows the applicator to get product applied deep into voids and spaces where pests like to hide.
* Quick knockdown and kill
* Long lasting residual – up to 4+ weeks!
* For indoor and outdoor use
* Low Odor
* Wide range of target insects
TARGET PESTS:
Kills: Ants, Bees, Bedbugs, Black Carpet Beetles, Booklice, Boxelder Bugs, Brown Recluse, Carpenter Ants, Carpenter Bees, Carpet Beetles, Centipedes, Chocolate Moth, Cigarette Beetles, Clover Mites, Cluster Flies, Cockroaches, Crickets, Dermestids, Dog Ticks, Drugstore Beetles, Earwigs, Elmleaf Beetles, Firebrats, Fleas, Flour Beetles, Grain Beetles, Ground Beetles, Gnats, Hornets, Houseflies, Midges, Lesser Grain Borers, Lone Star Ticks, Maggots, Meal Moths, Mole Crickets, Mosquitoes, Moths, Mud Daubers, Pantry Pests, Palmetto Bugs, Pillbugs, Psocids, Rice Weevils, Silverfish, Small Flying Moths, Sowbugs, Spider Beetles, Spiders, Springtails, Stinkbugs, Termites, Ticks, Tobacco Moths, Wasps, Waterbugs, Webbing Clothes Moths and Many Other Crawling Insects.
Also Controls and Kills: Wood Infesting Pests – Termites (Subterranean, Formosan & Drywood), Carpenter Ants and Carpenter Bees. When wood injecting, expect to get up to 2″ of coverage in both directions so that a hole can cover up to 4″ of wood total (7/64th inch drill bit will make a hole just right for the injector straw).
For termites and wood infesting beetles, drill 1/8″ holes spaced no more than 4″ apart. Inject using light pressure on the nozzle to avoid spray back. Fill holes and allow the treatment to soak in at least 30 minutes before retreating. Fill voids at least 3 times for maximum penetration and coverage.
Safe For Use In (but not limited to): Food Handling Establishments, Including Food Service, Manufacturing and Processing Establishments, Such as Restaurants, Cafeterias, Supermarkets, Bakeries, Breweries, Dairies, Meat, Poultry & Egg Processing & Packaging Plants, Canneries, Feed Handling Establishments Including Feed Manufacturing and Processing Establishments, Tents, Aircraft, Apartments, Atriums, Attics, Automobiles, Basements, Bathrooms, Boats, Bottling facilities, Buses, Cabins, Campers, Candy Plants, Carports, Cat Sleeping Quarters, Clothes Storage, Condominiums, Decks, Dens, Driveways, Garages, Gazebos, Granaries & Grain Mills, Hospitals, Hotels, Industrial Buildings, Kitchens, Laboratories, Lanais, Living Rooms, Mausoleums, Offices, Parlors, Patios, Pet Sleeping Areas, Play Rooms, Porches, Railcars, Recreational Vehicles, Rooms, Schools, Ships & Vessels, Solariums, Storage Areas, Sun Rooms, Trailers, Trucks, Utility Rooms, Verandahs, Warehouses and Wineries.
RELATED PRODUCTS:    MAXXTHOR EC      JOY JUICE      EARTH AUGER
PRODUCT DOCUMENTS:       SPECIMEN LABEL       MSDS SHEET
$28.00  (15 oz can)(3+ $25.00 ea)(451236)(FREE STANDARD SHIPPING)
Order online and save 5%


$229.00  CS of 12 cans(451236CS12)(FREE SHIPPING)
Order online and save 5%


Supporting Video