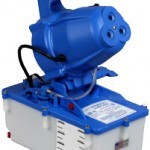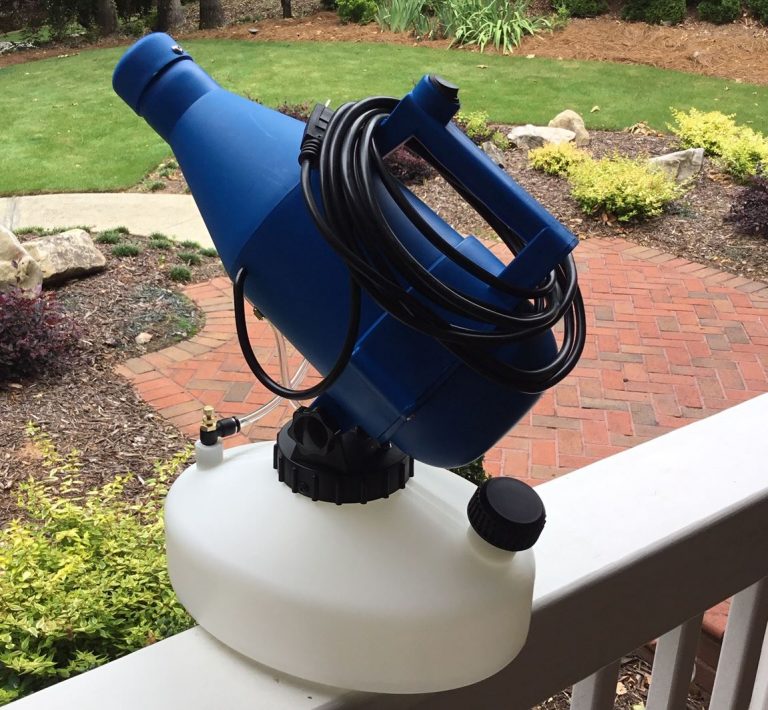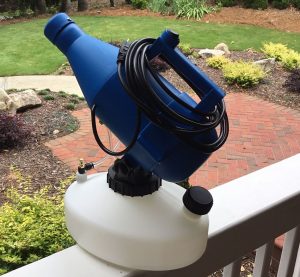 PRODUCT DESCRIPTION:   Heavy duty ULV Fogger Misting machine ideally suited for applying any water based pesticide, viruscide, deodorizer and more.
This unit features the following:
Powerful 1400 Watt Motor able to pump 8-12 oz per minute
15 foot Power Cord
40+ foot range when used inside where there is no wind
Outside reach with breeze can reach 50+ feet
Adjustable flow rate from "zero" to more than 10 oz per minute
Adjustable head position from "down" to "flat" to "upward angle" (seen to the right).
Easy to use rocker on/off switch located on top handle
1.2 Gallon Tank
SUPPORTING VIDEO
DIRECTIONS:  Filling port is located at the back of the tank; remove to fill with water and chemical. Flow Rate is made by adjusting the brass valve located on the top of the tank up front. Loosen to increase flow; tighten to restrict flow. The on/off button is easy to rock either way and the head can be set to "lock" in position by tightening the side securing knobs nice and tight.
*** ALWAYS EMPTY TANK WHEN DONE FOGGING. WE ALSO URGE YOU TO PURGE FOGGER CLEAN. DO THIS BY "DIALING DOWN" CONTROLLING VALVE TO STOP ALL CHEMICAL FLOW FROM TANK. CHECK CLEAR HOSE TO SEE ITS EMPTY OF MIXTURE AND WHEN NOTHING IS COMING OUT OF FOGGER HEAD FOR AT LEAST 10 SECONDS, YOU ARE CLEAR ***
OPTIONS:         FOGGER TURNTABLE
ALTERNATIVE FOGGERS:     BG 2300     BG 2600      FM 5330 110v      FM 5330 220v      FM 6309 110v     FM 6309 220v      FM 6208 110v      FM6208 220v     FM 7401 ULV      FM 7807 w/16″ EXT 110v        FM 7807 w/16″ EXT 220v      FM 7807 w/38″ EXT 110v      FM 7807 w/38″ EXT 220v      GOLDEN EAGLE THERMAL FOGGER      SOLO BACK PACK FOGGER


$225.00   (283245)
Order online and save 10%


FOGGER AND BITHOR KIT ($323.00 VALUE) for just $300.00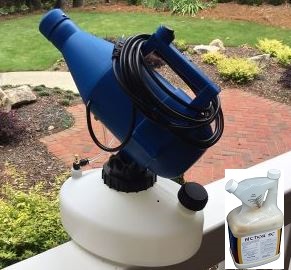 $300.00 (283247)
Order online and save 10%