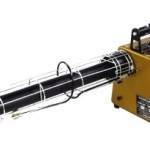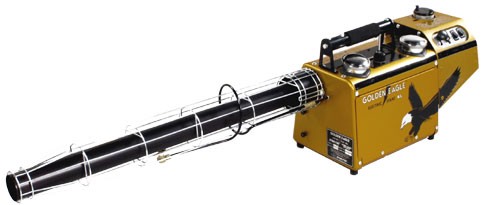 PRODUCT DESCRIPTION: Thermal or "hot" fogger which heats oil based fogging solutions for the purpose of creating a fog or mist. This mist is light – almost smoke like – and will stay suspended longer than cold space sprays. Since particle size is smaller, the material is able to cover bigger areas better due to deeper penetration and longer hang time. This unit is electric start (requires no pumping; completely automatic), gasoline powered and lightweight. Though it has many adjustable features, the factory preset is generally the best way to use it and be sure to follow the cleaning procedure when emptying the tank. This insures it will operate smoothly next time you need it. Remember, this is a commercial piece of equipment and is designed for years of use.
WHERE TO USE IT: Outside around the home, farm, picnic grounds, camp areas, dumps, tire recyclers, gardens or just about anywhere noseeums are active and the need for a large fogging machine is required.
RATE OF APPLICATION: This will vary from region to region. Generally, expect to get 2+ acres treated per gallon of material used. It is important to use DEODORIZED OIL  as the base carrier in the formulation tank.  DON'T USE ANYTHING WATER BASED!
TECHNICAL SPECS:  The droplet size in the fog will range from .5-50 microns; output is 57,000 cubic feet a minute. Flow rate takes about 6.66 minutes per gallon; it will take about approximately 7.5 minutes to empty the 1.1 gallon formulation tank. Coverage will vary depending on landscape, vegetation density, air quality, etc. On average, one should expect to use anywhere from 1/4 gallon to 1/2 gallon of mixed product per acre; treatment time should be in the 3-5 minute range per acre depending on the mode of transportation, vegetation density, etc.
TARGET PESTS:   Flying pests like mosquitoes, noseeums, gnats, biting flies, sand flies, horse flies, etc.
DOCUMENTS:     GOLDEN EAGLE MANUAL
TRUCK MOUNTED FOGGERS:      MINI LITE ULV FOGGER       BLACKHAWK THERMAL FOGGER
ALTERNATIVE HANDHELD FOGGERS:     BG 2300     BG 2600      FM 5330 110v      FM 5330 220v      FM 6309 110v     FM 6309 220v      FM 6208 110v      FM6208 220v     FM 7401 ULV      FM 7807 w/16" EXT 110v        FM 7807 w/16" EXT 220v      FM 7807 w/38" EXT 110v      FM 7807 w/38" EXT 220v      HURRICANE DYNA FOG 110v      SOLO BACK PACK FOGGER     SUPERHAWK II THERMAL FOGGER


$1,999.00   (283260)(FREE STANDARD SHIPPING – EXCEPT HAWAII AND ALASKA)
Order online and save 10%  (AFTER DISCOUNT, YOU PAY JUST $1,799.10 DELIVERED!)



Supporting Video
Title

Runtime

0:21
Title

Runtime

1:16