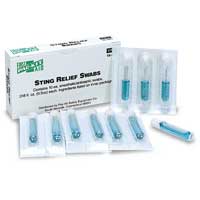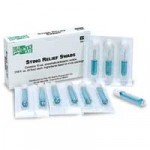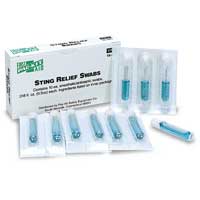 PRODUCT DESCRIPTION: Ointment which will take the "itch" and other discomfort away from insect bites or stings. It will work quickly and help you to ignore the sore (sting, bite, etc.). This will enable the irritation to heal faster. These come in a 10 pack of individually wrapped disposable "swabs". The ointment is in a vial which is capped by a swab like cotton. The swab is squeezed in the middle to enable the ointment to flow to the swab head when needed. The ointment has a slight color to it in the vial but it goes on clear and will dry clear. This package is ideal if you wish to distribute small doses to many people who want to carry their own first aid. It's just about odorless and fast acting and works well on any insect sting or bite. Each vial has about 2/10's of an ounce which is enough to treat one bite a few times.
WHERE TO USE IT: Feet, legs, arms, hands, neck, and any just about any exposed skin area which has received a bite or sting. For topical treatment only.
WORKS FOR MANY INSECT BITES INCLUDING:  Bees, Wasps, Mosquitoes, Fleas, Gnats, No Seeums, Hornets, Lice, Bedbugs, Chiggers, Itch Mites, Yellow Jackets, Dust Mites ,Fire Ants, Kissing Bugs, Stink Bugs, Sand Flies,Ticks, Thrips & Scorpions
RELATED PRODUCTS FOR PEOPLE:       FLEA REPELLENT (aerosol spray).
RELATED PRODUCTS FOR THE PET:       FLEA COMB         OXY MED ITCH RELIEF SPRAY         MELALEUCA SHAMPOO         WATER BASED (GENTLE) PERMETHRIN PET SPRAY        PETCOR (alcohol based – strongest pet spray available – KILLS FLEA EGGS!!)         TRIPLE PYRETHRIN PET SHAMPOO (great smelling and very effective)         FLEA DIP CONCENTRATE         FLEA POWDER (for treating dogs and cats)


$12.00 ea   (10 pk)(283079)(3-5 pks $10.00 ea)(6+ $9.00 ea)(Free Standard Shipping)
Order online and save 5%





INTERNATIONAL CUSTOMERS ORDER HERE
Supporting Video