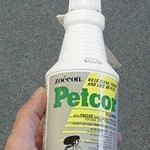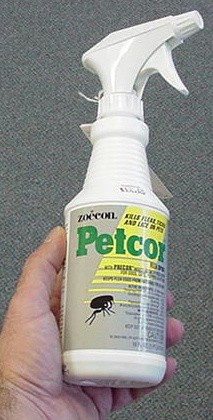 PRODUCT DESCRIPTION: Low odor spray which comes with it's own spray bottle for treating pets with fleas and ticks. Petcor includes Precor which enables it to actually kill flea eggs. This makes it one of the best "pet sprays" available for long term flea control.
WHERE TO USE IT: On cats and dogs.
RATE OF APPLICATION: This is determined by the size of the pet and how thick their fur is. Expect to treat every week or two during tick season. And soaking the pet is not needed; 5-10 squirts rubbed into the fur is usually plenty.
PRODUCT DOCUMENTS:       SPECIMEN LABEL       MSDS SHEET
RELATED PRODUCTS FOR PEOPLE: FLEA REPELLENT (aerosol spray)    FLEA BITE OINTMENT (for people and pets).
RELATED PRODUCTS FOR THE PET: FLEA COMB      OXY MED ITCH RELIEF SPRAY     MELALEUCA SHAMPOO      WATER BASED (GENTLE) PERMETHRIN PET SPRAY      TRIPLE PYRETHRIN PET SHAMPOO (great smelling and very effective)      FLEA DIP CONCENTRATE      FLEA POWDER (for treating dogs and cats).
$20.00   (456162) 16 oz
Order online and save 5%



$30.00   (456163) 32 oz
Order online and save 5%



$100.00   (456164) gallon
Order online and save 5%