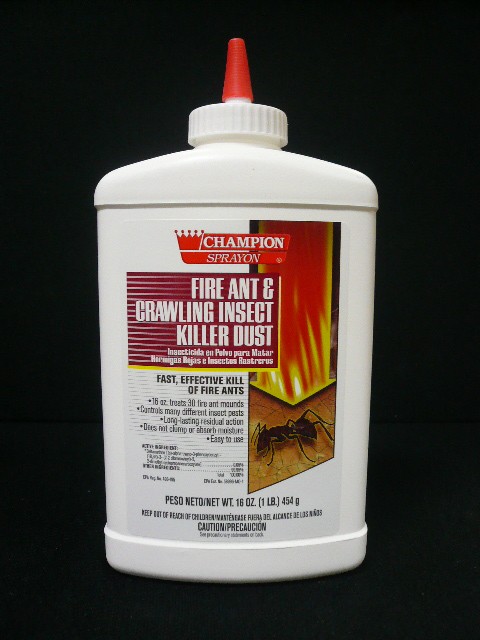 PRODUCT DESCRIPTION: Fire Ant & Crawling Insect Killer Dust effectively kills ants in fire ant mounds. A 16-ounce puffer bottle treats approximately 30 fire ant mounds. Kills other pests in homes and their immediate surroundings. Undisturbed, the dust provides up to 8 months of residual kill of insects. It is easy to use, non-staining, odorless, and will not clump or absorb moisture. It is safe to use around ornamental plants and grass.
FEATURES:
Fire ant and crawling insecticide
Treats up to 30 fire ant mounds
Will not clump or absorb moisture
1 lb jar can treat 500-2000 sq/ft
8 months residual when left undisturbed
Active: Synthetic pyrethroid, Deltamethrin
RECOMMENDED USES:
Ideal for fire ant mounds, cracks, crevices, attics, crawl spaces.
RECOMMENDED PESTS:
Works on a wide range of pests including cadelles, carpet beetles, confused flour beetles, cheese mites, cigarette beetles, dark meal worms, drugstore beetles, grain mites, granary weevils, lesser grain borers, merchant grain beetles, red flour beetles, rice weevils, rusty grain beetles, spider beetles, ants, box elder bugs, cockroaches, crickets, fleas, firebrats, silverfish, carpenter ants, termites, centipedes, millipedes, scorpions, sowbugs, spiders, wasps, slugs and more!
PRODUCT DOCUMENTS:       SPECIMEN LABEL       MSDS SHEET
$15.00   (452825) 1 lb
Order online and save 5%



$50.00   (452826) 5 lbs
Order online and save 5%


Supporting Video