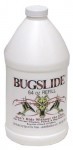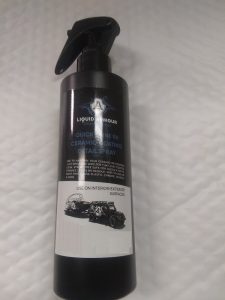 PRODUCT DESCRIPTION:    Liquid Armor is a premium non-abrasive polish and protector. Simply spray a small amount on the front of your car like the bumper, headlights, grill, hood, etc. and buff it out after it dries. A little bit goes a long way; this 8.5 oz spray bottle can treat a whole car twice. Liquid Armor should be applied to a clean surface and once in place will prevent bugs, road grime and dirt from sticking to your car..
Liquid Armor is your all-in-one total aut detailer. Use it on windshields, painted surfaces (autos), chrome, metal, aluminum, stainless steel, leather, vinyl, acrylic, gel coat (boats), glass, plastic, fiberglass and lexan. You can even spray it on your powder coated motor to keep it looking fresh and new.
Liquid Armor leaves surfaces slicker than wax with no streaking and no smearing. No need to ever wax again! Once applied, you'll notice that water beads up and is dispersed from all surfaces treated including your windshield.
Liquid Guard is great For Motorcycles, Cars, RV's, ATV's, Boats, & Airplanes. Nothing stops bugs from sticking to high speed vehicles better but in the case when they do, Liquid Guard will help remove bugs faster and easier and often times works with noting but water.
COVERAGE:   Porous surfaces will require more initially so get enough for two applications when treating absorbent substrates. But all painted, solid or waxed surfaces, our 8.5 oz spray jar is enough to cover the car 2-3 times.
WHERE TO USE IT:    This product is ideal for use on cars, trucks, motorcycles, boats and any surface where bugs are likely to get smashed or accumulate. Even helmet face shields. Take it on your road trip to remove smashed bugs as you drive cross country.
$18.00   8.5 oz  (775136)(3+ $15.00 ea)
Order online and save 5%