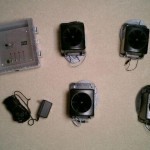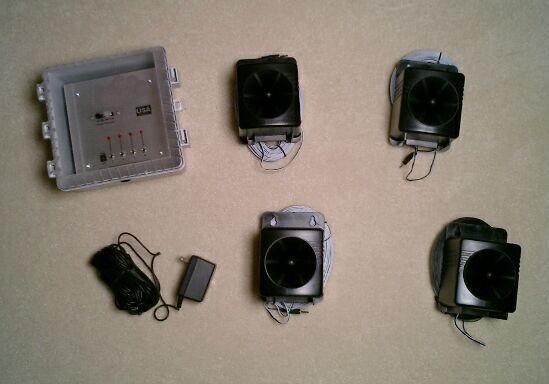 PRODUCT DESCRIPTION: The only Ultra Sound Repeller specifically for birds which features detachable speakers. This feature enables the device to be configured to cover a wide range of area on a "as needed" basis. Speakers can be moved around if birds relocate to other areas and the impact range can be specifically targeted. This allows for maximum coverage per unit with little or no sound impact wasted. The device comes with a base unit, 4 speakers, each with 100 feet of speaker cable, and a 110 volt AC adapter. The base housing is waterproof and can be located anywhere convenient allowing for control panel access. Speakers should be set as close as possible to where the birds are a problem. Alternatively you can direct the speakers to an area you want to keep bird free, like a barrier or invisible fence, and use it divert bird flight paths and roost locations. The base has three settings: low, medium and high. Coverage for each setting is as follows:


SETTING-EFFECTIVE RANGE PER SPEAKER-TOTAL RANGE ALL 4 SPEAKERS
LOW     900 SQ/FT-3600 SQ/FT
MEDIUM     675 SQ/FT-2700 SQ/FT
HIGH    570 SQ/FT-2280 SQ/FT
*** NOTE THE HIGHER THE SETTING, THE LESS AREA COVERED ***


WHERE TO USE IT: Unlike our other Ultra Sound Device which is designed specifically for ceilings, this unit is adaptable to just about any environment. Speakers can be arranged to cover a vast area in one, two, three or four directions. Speakers can be routed to areas which are separate and not attached to each other allowing for one base to effectively protect several zones. Common buildings where this device is very helpful include restaurants, bars, outside theaters, gardens, awnings, back yard spaces, ice cream shops, bistros, schools, stadiums, roof tops, truck loading and receiving docks, wharves, golf courses and just about anywhere birds are a nuisance and not wanted.
TARGET ANIMALS INCLUDE:        Bats, Blackbirds, Crows, Grackles, Mice, Pigeons, Rats, Seagulls, Sparrows, Starlings, Swallows and other undesirable birds.
RATE OF APPLICATION: As detailed above, the maximum area protected by all four speakers working together would be about 3600 sq/ft when speakers are shooting out 360 degrees. If you channel all four speakers in one direction, you can reach out several hundred feet.


RELATED ULTRA SOUND DEVICES:      BIRD BALCONY GARD      BIRD EXPELLER PRO     GOOSE BUSTER      QB4 CEILING MOUNT ULTRA SOUND REPELLER


$600.00  110 VOLT (747778)(3+ $525.00 ea)
Order online and save 5%



$625.00  220 VOLT (747778220V)(3+ $550.00 ea)
Order online and save 5%


INTERNATIONAL CUSTOMERS ORDER HERE