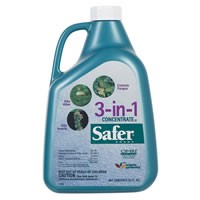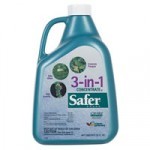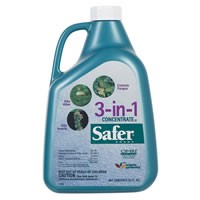 PRODUCT DESCRIPTION:      3-in-1 Concentrate provides three garden solutions in one: fungicide, insecticide, and miticide. It kills garden insects and mites and controls fungal diseases. It contains a patented formulation to help reduce injury to most plants.
     What it controls:   Powdery mildew, black spot, leaf spot, and rust.
     What it kills:    Aphids, beetles (leaf-feeding), caterpillars (leaf-feeding), crickets, earwigs, lace bugs, leafhoppers, mealybugs, mites, plant bugs, scale crawlers, thrips and whiteflies.
WHERE TO USE IT:      Roses, flowers, shade trees, foliage plants, ornamentals, beans, peas, broccoli, cabbage, cauliflower, collards, kale peppers, strawberries, apples, pears, citrus, potatoes, cucumbers, squash, grapes, blackberries, blueberries, raspberries, loganberries, currants, melons and tomatoes.
How to use it:      Apply in the morning or late evening. Shake well. Use at first sighting of insects or infection. Thorough coverage of both top and bottom leaves is important. Spray leaves to the point of fun off. Apply every 5 to 7 days when insects are present.
RATE OF APPLICATION:      Mix 4-8 oz per gallon of water. Apply over 250-500 sq/ft of plant surface area per mixed gallon depending on whether you're treating for insects or fungus (consult label below for more target specific directions). Product can be used daily if needed since it has 1 day to harvest. If it doesn't rain or if there are no pests present, apply every 1-2 weeks to maintain a pest free garden.
RELATED PRODUCTS:          PUMP SPRAYER
PRODUCT DOCUMENTS:       SPECIMEN LABEL       MSDS SHEET
$30.00   (663031) 32 oz. (3+  $27.00 ea.)
Order online and save 5%



Supporting Video