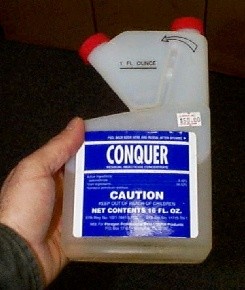 PRODUCT DESCRIPTION:      Odorless concentrate which mixes with water. Provides 1-2 month residual protection.
TARGET PESTS:       Although it is labeled for many pests, Conquer works well for crickets, digger bees, digger wasps, fleas and ticks.
WHERE TO USE IT: Use it outside to stop crickets from entering and inside for quick control of existing populations. Can also be used inside for crawl space and basement treatments.
RATE OF APPLICATION: 1-2 ounces per gallon of water. The pint will make 8-16 gallons of finished product when used in a pump sprayer. For lawn and turf applications, a pint can treat up to an acre.
RELATED PRODUCTS:          PUMP SPRAYER        20 GALLON HOSE END SPRAYER
PRODUCT DOCUMENTS:       SPECIMEN LABEL       MSDS SHEET
$60.00   (455215) 16 oz
Order online and save 5%



$90.00   (455216) 32 oz
Order online and save 5%


Supporting Video