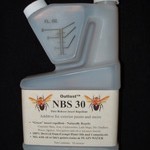 PRODUCT DESCRIPTION: NBS 30 Paint and Stain Additive is designed for use in exterior coatings. It will deter and inhibit insects from burrowing through or crawling on exterior coatings and is appropriate for use in residential applications as well as dairy facilities, drive-in restaurants, golf courses, parks, playgrounds, poultry houses, recreational areas, schools, landscape areas, zoos, etc. NBS 30 Additive is effective in controlling crawling and nesting activity on painted or stained surfaces to which it has been added. NBS 30 Additive is soluble or dispersible in commercial oil and water based exterior paints and stains. It's also dispersible in plain water for a gentle, botanical approach to nuisance insect control. NBS 30 is NOT an insect killer and is not intended for control of termites or other wood ingesting insects. Treatments can last 1-2 years and should be reapplied whenever painting or staining.
TARGET PESTS:    Ants, Asian Ladybugs, carpenter bees, carpenter ants, cockroaches, beetles, dirt daubers, fleas, ladybugs, lizards, mites, moths, silverfish, spiders, tree frogs, ticks, wasps, woodpeckers and more.
WHERE TO USE IT: Exterior paints and stains.
RATE OF APPLICATION:     3.2 oz per gallon of paint or stain; the pint is enough for 5 gallons of paint or stain, oil or water base. When used with paint or stain, repellency can last over 1 year. When mixed with water, use 3.2 oz per gallon and spray over 500 sq/ft of exterior surface area. Can be used safely on home siding, plants, etc. When used this way, treatments will only last 30-60 days.
RELATED PRODUCTS:          PUMP SPRAYER
PRODUCT DOCUMENTS:       SPECIMEN LABEL       MSDS SHEET
$70.00   (451053) 16 oz. (3+ for $63.00 ea.)
Order online and save 5%






INTERNATIONAL CUSTOMERS ORDER HERE


Supporting Video