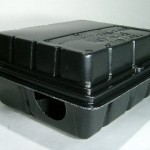 PRODUCT DESCRIPTION:   Tamper-proof bait stations using a 10 lb cement black to anchor it securely where placed. Inside design allows rodents to forage in two directions. Each compartments can house a trap or bait. You can also anchor it using duckbill anchors for extra security.
Compartments can be configured to hold bait or kill traps like the T-REX Snap Trap. Up to 8 TOP GUN BAIT BLOCKS can be added to one side; bait rods run through the middle of this bait keep it locked in placed and difficult to remove so placements stay secure inside the station.
Other features include rear wall holes for mounting it to fences, house siding, etc.
Special "key" included used to open lid.
Ramped entry path ensures bait and trap compartments stay dry even when used outside in harshenvironments.
WHERE TO USE IT: In and around businesses and homes away rodent activity has been active.
RATE OF APPLICATION: Depends on infestation or level of maintenance wanted. Generally one station every 20-25 feet is adequate around walls and perimeters where rodents are active.
BAIT OPTIONS:      T-REX TRAPS       TOP GUN BAIT BLOCKS
BLACK STATION (includes key, bait rods, anchor blocks)
$35.00   (287879)(3+ $30.00 ea)
Order online and save 5%



GRAY STATION (includes key, bait rods, anchor blocks)
$40.00   (287876)(3+ $32.00 ea)
Order online and save 5%


BLACK EVO STATION WITH 1 T-REX AND 1 PAIL TOP GUN
$95.00   (287879TRTG)
Order online and save 5%



BLACK EVO STATION WITH 2 T-REX TRAPS
$45.00   (2878792TR)
Order online and save 5%



GRAY EVO STATION WITH 1 T-REX AND 1 PAIL TOP GUN
$100.00   (287876TRTG)
Order online and save 5%



GRAY EVO STATION WITH 2 T-REX TRAPS
$48.00   (2878762TR)
Order online and save 5%



EVO STATION KEY ONLY
$4.00 EA   (287888)(FREE SHIPPING)(2+ $3.00 ea)
Order online and save 5%