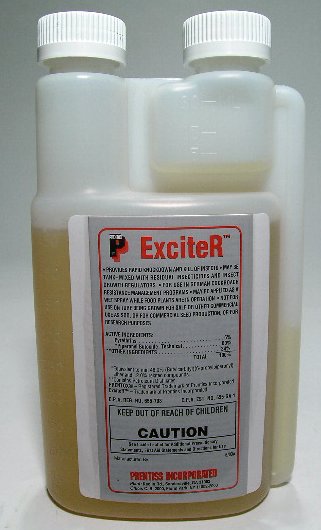 PRODUCT DESCRIPTION: 6% pyrethrin is a concentrate which can be mixed in water or oil. It is used for quick knockdown of flying insects such as flies or mosquitoes. Use it for infested areas and mix it with a residual product for best results. It has a slight odor but is barely detectable once mixed.
WHERE TO USE IT: Inside and outside.
RATE OF APPLICATION: This varies on the target pest. You may use as little as one ounce per gallon or as much as 4 ounces per gallon. For mosquito control, you will generally use 1-2 ounces per gallon.
PRODUCT DOCUMENTS:       SPECIMEN LABEL       MSDS SHEET
$100.00  (455294) 16 oz (CANNOT BE SHIPPED TO NY)
Order online and save 5%

ALTERNATE PYRETHRIN OPTIONS: Due to a limited supply of pyrethrin, there are currently a couple of other Pyrethrin products in production and at any one time, we will usually have one or another in stock. Additionally, there is one we really like which is almost the same exact formulation as Exciter. More  importantly, this product includes a much broader label that allows the spray to be applied to most any common garden or food crop. This label comes in both pints and quarts and can be used effectively for any common lawn and garden pest. If this is your first time getting a pyrethrin, get this formulation. And if you've been using Exciter but would like to try an alternative that's a bit less costly but works exactly the same way as Exciter, give this formulation a try. Lastly, this formulation is NOT RESTRICTED to any state and it comes in both pints and quarts.
PRODUCT DOCUMENTS:        SPECIMEN LABEL PINT       SPECIMEN LABEL QUART       MSDS SHEET
$80.00  (794958) 16 oz
Order online and save 5%


$120.00  (789351) 32 oz (CURRENTLY OUT OF STOCK INDEFINTELY)
Order online and save 5%




Supporting Video