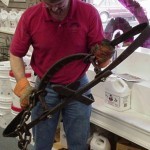 TRAP NAMES: Long Spring #16 Bear Trap and Long Spring #6 Bear Trap.
TRAP DESCRIPTION:  Originally used for large animals like black bear, brown bear, polar bear, grizzly bear, asian bear and kodiak bear, these traps are now outlawed but still used for demonstrations and decorative applications. They are still fully functional and ready for use.
Pictured to the right up top is the #16 Long Spring in the "offset" design. This model features the "teeth" most people think of when they see a trap of this design. Weighing in at 43 lbs, this trap measures over 42″ long and comes with the heavy link chain attached. Its suitable for bear, lions and basically any large pawed animal where you need a jaw spread of 16 inches.
A little further down the page is the #6 Long Spring. This trap is the same size in weight and length but is lacking the teeth. The Jaws of this model will seal tight when closed. Like the #16, the #6 is fully functional and ready for use afield.
This video shows how to set the trap safely though its tension is not super strong, it does require C-Clamps to hold for proper deployment as you'll see.
OTHER BEAR TRAPS
:    
LONG SPRING # 15 BEAR TRAP
OTHER SIZES:       LONG SPRING 0      LONG SPRING 1      LONG SPRING 1.5       LONG SPRING 11      LONG SPRING 2      LONG SPRING 3      LONG SPRING 4      LONG SPRING 5

RELATED ACCESSORIES:       TRAP DIE BROWN      TRAP DIE BLACK


RELATED TRAPS:       BODY GRIP 55      BODY GRIP 110      BODY GRIP 120      BODY GRIP 160      BODY GRIP 220       BODY GRIP 280       BODY GRIP 330       BODY GRIP 330 EVEN JAW       CONIBEAR 110       CONIBEAR 120       CONIBEAR 220       CONIBEAR 280       CONIBEAR 330       COIL 1       COIL 1.5       COIL 1.5 PADDED       COIL 1.65       COIL 1.75       COIL 2       COIL 3        COIL 3 PADDED       COIL 5       COIL 1.75 OFFSET       COIL 2 OFFSET       COIL 3 OFFSET       COIL 5 OFFSET


$385.00   (825057) # 16 Offset Bear Trap (with Teeth)
Order online and save 5%