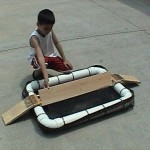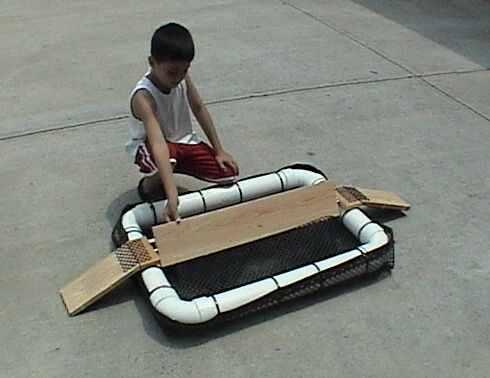 TRAP DESCRIPTION: This trap measures 30 inches wide by 36 inches wide by 30 inches deep. Floating trap which takes advantage of the desire turtles have to sun themselves. Featuring two entry ramps, this trap works by presenting itself as a comfortable place on which to rest. Unsuspecting turtles will climb up either ramp to get to what they believe is a stable log where they can rest in the sun. However, once on the top side of the "trigger board", the plank will turn sideways causing the turtle to fall down into the holding net of the trap. There it will remain caught. Though they cannot escape, trapped turtles will be kept alive for relocation.  The "trigger board" will then reset and be ready for the next turtle. This is the true commercial grade design and will last the longest so get this model if you feel you will be trapping turtles for many years.
WHERE TO USE IT: Any body of water where turtles are present and like to sun themselves. Since it does not require any bait, this trap is best suited for species of turtles that like to openly sun themselves.
RATE OF APPLICATION: Like most live traps, the more installed the faster you will be able to trap out target animals.
** THIS ITEM IS DISCONTINUED AND NO LONGER AVAILABLE **
ALTERNATE TURTLE TRAPS:     SMALL MESH HOOP TRAP       SUNNING AND LAND TURTLE TRAP     SUNNING TRAP (REPLACEMENT FOR THE TRAP PICTURED ABOVE)