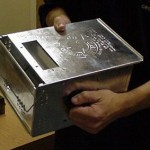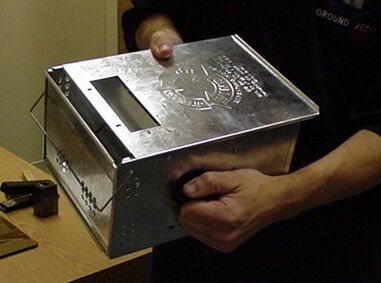 PRODUCT DESCRIPTION: The Mouse Master is a wind up cigar box size trap which has a hole through the center. This hole looks inviting to mice since they can see straight through it. Mice will enter expecting to be able to pass through it without a problem. In the middle of the passway, the floor is actually a paddle which will gently slide the animal into a holding area. This area is able to hold over 20 mice with one setting. Use Trappers Choice Pecan flavor to get a quicker catch. Use this trap if you can. It's higher profile may limit it's use so if you have a need to use a lower profile design, go to the Tin Cat (822401). It works just about as good.
WHERE TO USE IT: Anywhere you are having activity. This can be around pet food, bird feeders, pantries, basements, attics, or crawl spaces.
RATE OF APPLICATION: Although one can catch a lot of mice, having two or more installed is always better and will provide quicker results. The rule to follow it to have one installed for every area of 10-20 feet where mice are active. If you have two locations showing activity and they are more then 20 feet apart, you should install at least 2 units to insure a faster catch since you probably have at least 2 different nest locations.
OTHER MOUSE AND RAT KILL TRAPS:       MOUSE TRAP METAL TRIGGER      MOUSE TRAP EXPANDED TRIGGER       RAT TRAP METAL TRIGGER       RAT TRAP EXPANDED TRIGGER       SNAP-E RAT TRAP       T-REX RAT TRAP 
MOUSE AND RAT LIVE TRAPS:       MINI CAT MOUSE TRAP       KWICK KATCH MOUSE TRAP       TIN CAT      LIVE MOUSE CATCHER       LIVE TRAP 3X3X10       LIVE TRAP 5X5X18
RELATED TRAP ACCESSORIES:       METAL TRAP COVER (USE WITH KILL MOUSE AND RAT TRAPS)       HERCULES PUTTY (HOLDS TRAPS IN PLACE ON ANY SURFACE)
LURES AND BAIT:       MIXED SEEDS       LOGANBERRY PASTE       PECAN PASTE
$20.00   (822174) single trap (3+ Traps $17.00 ea)(Mix and match discounts with TIN CATS and KWICK KATCH REPEATER TRAPS)
Order online and save 5%



$200.00   (822175) case of 12 traps
Order online and save 5%


INTERNATIONAL CUSTOMERS ORDER HERE
Supporting Video