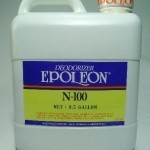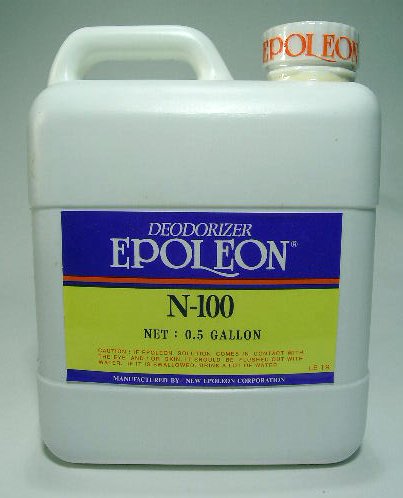 PRODUCT DESCRIPTION: Epoleon N-100 was developed mainly for extra-strength deodorization of neutral odors in wastewater treatment and scrubbers. It completely dissolves and neutralizes gases which include acidic odors (Hydrogen Sulfide, Methyl Mercaptan) and alkali odors (Ammonia, Trimethylamine). N-100 is therefore effective odor control agent for Pet urine, Dead Rodents, and musty smells in bathrooms, laundry areas, cabinets and basements. N-100 is not only strong but also environmentally safe, and it is USDA approved.
N-100 will also eliminate spray tank odor when added to pump sprayers, back pack sprayers and large spraying systems used to apply insecticides, fungicides, herbicides and more. Add 1/2 to 1 oz per gallon of water to remove unwanted scent.
Pet urine odor and other animal related odor problems result from alkali odors (ammonia, Trimethylamine), and acidic odors (Hydrogen Sulfide, Methyl Mercaptan) emitted from urine and feces. When your pet releases urine, PH property of urine is alkali; however, after being exposed to air, it changes from alkali to acidic. These odors are not only bad for humans but also for your pets. The most important fact is that pet odor control should be carried safely so that both of you can live comfortable.
MIXTURE RATE:    6-12 oz per gallon of water. Each gallon can treat 400-800 sq/ft of surface area. Porous surfaces like cement, dirt or mulch will require more spray so expect to get 400-500 sq/ft on such areas. Inside the home, carpeting and tiled floors will require less material so expect to get 600-800 sq/ft of coverage per gallon.


RELATED PRODUCTS:       NNZ         N7C        ODOR DESTROYER        QUICK ACTION        ROUGH AND READY


RELATED EQUIPMENT:             PUMP SPRAYER        MINI FOGGER        BG2300 FOGGER        RENTAL FOGGER


PRODUCT DOCUMENTS:       SPECIMEN LABEL          MSDS SHEET


$30.00  16 oz (451034)
Order online and save 5%



$100.00   64 oz (775210)
Order online and save 5%