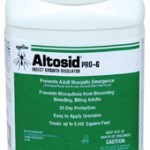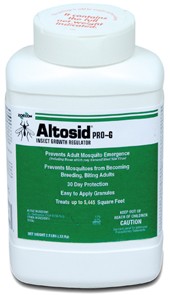 PRODUCT DESCRIPTION: Bluish/black seed like granule – almost like poppy seeds – which are embedded with Methoprene. Odorless and undetectable when applied properly, the active is a very safe material to use around the home. Methoprene is a growth hormone, which is essentially a protein, so it poses little risk when used properly. In fact, it won't impact any adult insects; only their young are prevented from being able to grow to reproducing adults.
WHERE TO USE IT: Areas where you have standing water or where water may accumulate. This includes bird baths, old tires, tree holes, stumps, mulch, flower beds, compost piles, drain ditches, water gardens, ponds, lakes, flower pots and just about anywhere mosquitoes may take advantage of accumulating water and moisture.
RATE OF APPLICATION: 2.5 lbs will treat up to 5445 sq/ft for 30 days. Apply monthly.
PRODUCT DOCUMENTS:       SPECIMEN LABEL       MSDS SHEET
$50.00 (2.5 lb)   (454305) (2+ $40.00 ea.)
Order online and save 5%