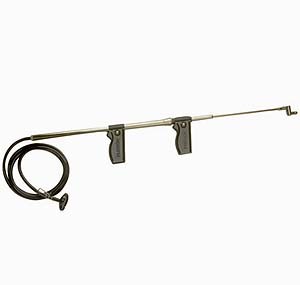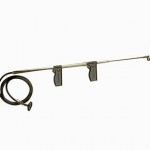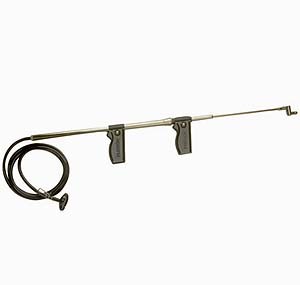 SPRAYER DESCRIPTION:    As the name implies, this sprayer requires a "trombone" sliding action to get the unit to pump. All the spray pressure is generated by this motion so the slower you pump, the less "powerful" the spray will be. Pumping it quickly will enable the spray to reach a height of 25-30 feet making it well suited for hard to reach targets.
Included with the sprayer is a 72″ hose which drops into your formulation tank. This hose has a filter and can be used with a small bucket, a 5 gallon pail or any chemical tank filled with pesticides such as a fungicide, insecticide, etc. The nozzle is adjustable from a wide "swath" to a narrow "pin stream".
View the video below to see exactly how it works.
RELATED SPRAYERS:     6 GALLON HOSE END SPRAYER          20 GALLON HOSE END SPRAYER        SOLO 1 LITER SPRITZER       SOLO 2 LITER SPRITZER WITH 23″ EXTENSION        HUDSON ELIMINATOR 1 GALLON PLASTIC SPRAYER        SOLO 1 GALLON HEAVY DUTY SPRAYER          B&G 1 GALLON STAINLESS STEEL SPRAYER W/8″ WAND        B&G 1 GALLON STAINLESS STEEL SPRAYER W/18″ WAND        SOLO STAINLESS STEEL 2 GALLON SPRAYER          SOLO 425-HD BACK PACK 4 GALLON SPRAYER (DIAPHRAM PUMP)        SOLO 5.6 GALLON GAS POWERED BACK PACK SPRAYER        SOLO GAS POWERED MIST BLOWER        16 GALLON POWER SPAYING SYSTEM       26 GALLON POWER SPRAYING SYSTEM


$90.00   (287789)
Order online and save 5%





INTERNATIONAL CUSTOMERS ORDER HERE
Supporting Video