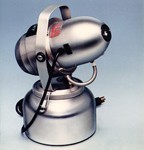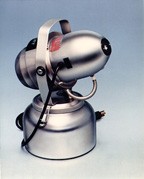 PRODUCT DESCRIPTION:    Electric fogging machine used to convert water or oil based formulations to a mist. This mist is then directed over an air space where mosquitoes and other pests are active. The mist or fog will quickly kill targeted pests. This machine has a fixed rate of application; it fogs about 9-10 ounces per minute so it can treat 1/4-1/2 acre in under ten minutes. It has a 1 gallon tank and creates a fog with particle sizes in the 30+ range. One of our most popular foggers. This unit is the 110 Volt model but we also have it as a 240 Volt Model where needed. If you need volume controls, move up to the FM 6208 or SOLO BACK PACK FOGGER.
WHERE TO USE IT: Property owners needing to treat 1/4 of an acre at a time should use nothing smaller than this.
RATE OF APPLICATION: 9-10 ounces per minute; treat 1 acre in 10-15 minutes.
PARTS DIAGRAM:    6309 BLOWUP DIAGRAM FOR ORDERING PARTS
RELATED OPTIONS:         FOGGER TURNTABLE
ALTERNATIVE FOGGERS:     BG 2300     BG 2600      FM 5330 110v      FM 5330 240v      FM 6309 240v      FM 6208 110v      FM6208 240v     FM 7401 ULV      FM 7807 w/16″ EXT 110v        FM 7807 w/16″ EXT 240v      FM 7807 w/38″ EXT 110v      FM 7807 w/38″ EXT 240v      GOLDEN EAGLE THERMAL FOGGER      HURRICANE DYNA FOG 110v      SOLO BACK PACK FOGGER

$350.00   (283226)(110 Volt)
Order online and save 5%



$400.00   (283229)(220 Volt)
Order online and save 5%






INTERNATIONAL CUSTOMERS ORDER HERE
Supporting Video
[tubepress mode="playlist" playlistValue="EB86BED33C63F952″]