| | |
| --- | --- |
| | www.bugspraycart.com/wp-content/uploads/traps/conibear/setters-robbies-design/822685.jpg"> |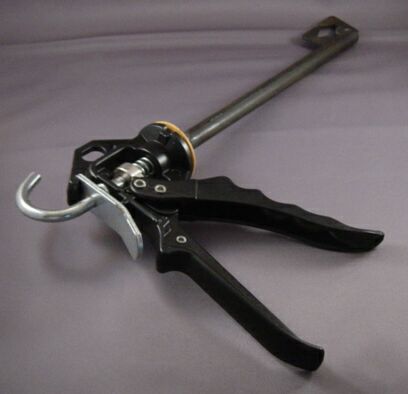 PRODUCT DESCRIPTION: These are a more recent addition to our lineup of setters used to set the bodygrip traps. These are easy to use and should be considered if you are in the market for a good pair of trap setters. Using the "caulking gun" concept, these setters make setting these traps as easy as squeezing out a tube of window caulking.  Any of the setters will give the trapper tremendous leverage so that spring compression is easier and more controlled. The use of setters will save both time and injury.
WHERE TO USE IT: When setting any of the bodygrip traps.
PRODUCT DOCUMENTS:       DIRECTION SHEET
RELATED PRODUCTS:     BASIC SETTERS       DELUXE SETTERS
RELATED TRAPS:       BODY GRIP 55      BODY GRIP 110      BODY GRIP 120      BODY GRIP 160      BODY GRIP 220       BODY GRIP 280       BODY GRIP 330       BODY GRIP 330 EVEN JAW       CONIBEAR 110       CONIBEAR 120       CONIBEAR 220       CONIBEAR 280       CONIBEAR 330


$80.00   (822685)
Order online and save 5%


INTERNATIONAL CUSTOMERS ORDER HERE
Supporting Video