We have a wide range of sprayers covering most every need for general home, yard and garden applications. This page highlights a few dependable options and helps to narrow the list of options.
PUMP SPRAYERS
ELIMINATOR 1 GALLON: Most Economical 1 Gallon Sprayer featuring a Translucent Poly Tank with Large Funnel Top, Standard Locking On/Off Valve, 12" Curved Poly Extension Wand, Poly Cone Nozzle, 'T' Handle Pump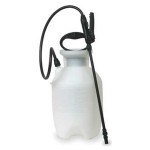 $15.00   (287488)
Order online and save 5%




Supporting Video
SOLO 454 HEAVY DUTY SPRAYER: This is our One Gallon Pump Sprayer which is clearly our biggest seller. We have it custom built to our specifications which includes an adjustable brass nozzle, a check flow filter located at the nozzle which prevents dripping when the valve is shut off in addition to filtering the flow and a relief valve located on top of the tank. The heavy duty poly tank is both UV protected and thick enough to withstand a lot of abuse. It comes with a fixed pin stream tip and a fixed fan pattern tip as well in case the adjustable is just not able to get the right flow for your application. The wand is very durable, the spray handle features a lock on setting for continuous spraying and it is very easy to maintain and repair. We offer a lifetime warranty on this sprayer which means if if ever breaks we will repair it free of charge for as long as you own it! This sprayer is great for most applications in and around the home and can be used to apply just about any of our products. Optional pressure gauge, spray boom and relief valve cap are available.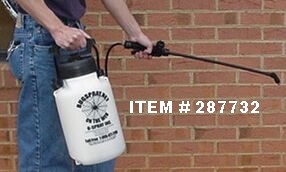 $45.00   (287732)
Order online and save 5%


Supporting Video
TROMBONE SPRAYER
72" Hose with Large Filter Drops Directly into Chemical Bucket * Includes extension * Adjustable Nozzle * Pump Action * Sturdy No-Slip Grips * Long-Lasting Nickel-Plated Brass Pump.
House, Tree and Shrub Sprayer. Shoots up over 30 Feet for those "hard to reach" areas.


$70.00   (287789)
Order online and save 5%


Supporting Video
HOSE END SPRAYER
GILMOUR DIAL-A-MIX 499: 1 Quart Dial A Mix. This sprayer is much like the previous one but with a few enhancements. First and foremost, it has a much easier way of setting the dial. Instead of relying strictly on teaspoons as the increments of measure, there are tablespoons and oz/per gallon increments included. This makes it much easier to use since product labeling for mixture rates varies from company to company. Regardless of what increments the label of the product you want to apply is using, it will be easy to figure out the setting with this sprayer compared to the previous model. The second difference is that this sprayer has a holding tank twice the size. It's a full quart which means you can avoid having to fill it up repeatedly which could be an issue for any large job. Lastly, it has an adjustable nozzle which enables you to set the spray pattern. There are four settings. One directs the spray up, another down, another is a pin stream straight and the fourth is a dousing type that's ideal for low pressure needs when you want to saturate a plant or specific area. It has a maximum setting of 8 oz per gallon.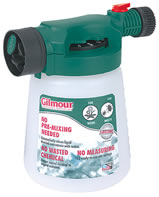 $15.00   (287526)
Order online and save 5%



The rest of our sprayer line can be seen here:  SPRAYERS