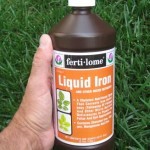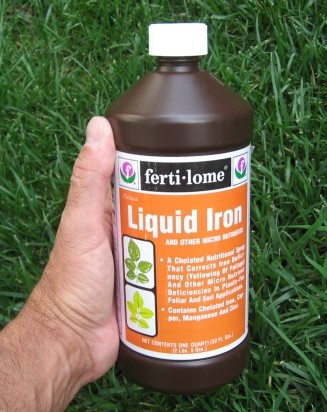 PRODUCT DESCRIPTION: Liquid Iron/Fertilizer which has several nutrients including Copper, Manganese and Zinc. The Chelated Iron is a 3.5% and is enough to treat 1000 sq/ft well per quart of concentrate. There is little risk of burning or hurting the grass with this formulation. Use it 2-3 times a growing season for maximum benefit and deep, dark green grass.
WHERE TO USE IT: On grass which is a little faded or malnourished and needs some greening help. Can be used on plants, flowers, shrubs or trees as well.
RATE OF APPLICATION: Quarts will treat 1,000 sq/ft well; Gallons will cover 4000 sq/ft. Use a hose end sprayer to apply it. We recommend our 6 Gallon Hose end featured on our Sprayer page. We also have "kits" of this product which come with Sprayers which might be the best deal.
$12.00   (953252) Quart
Order online and save 5%



$30.00   (952255) Gallon
Order online and save 5%


Supporting Video