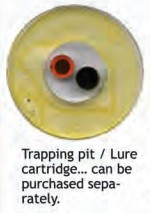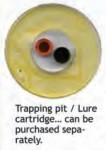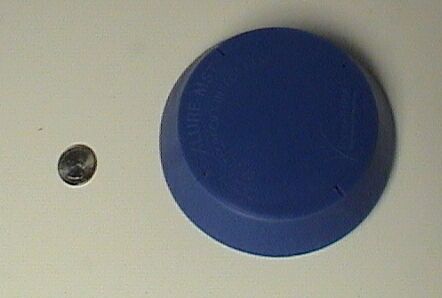 PRODUCT DESCRIPTION:      Round trap which features both a food lure and a pheromone based attractant. It's a flat trap which sits with a low profile ideal for cabinets and pantries. Pests enter by passing under the cap which is set above the center base and serves as a cover for the trap. This cover keeps out dust and contaminates. Once pests enter, they will forage up and into a sticky oil like goo which will keeps them contained.
WHERE TO USE IT:     Kitchens, pantries and any where active pests are noted.
TARGET PESTS:      This trap will work for Cabinet Beetles, Cigarette Beetles, Confused Flour Beetles, Drug Store Beetles, Flour Beetles, Foreign Grain Beetles, Grain Weevils, Khapra Beetles, Lesser Grain Borers, Maize Weevils, Merchant Grain Beetles, Rice Weevils, Saw Toothed Grain Beetles and Warehouse Beetles.
RATE OF APPLICATION:     Set one trap out each 100 sq/ft of surface area. Most kitchens will require 2 or more traps but they can be used in garages, bedrooms, pantries or anywhere pests are found.
PRODUCT DOCUMENTS:        SPECIMEN LABEL        MSDS
$15.00   (826471) (6+ $12.50 each)
Order online and save 5%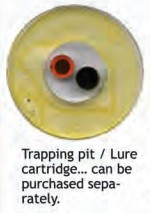 REFILL  ONLY
$12.00   (826474) (3+ $10.00 each)(FREE STANDARD SHIPPING)
Order online and save 5%



INTERNATIONAL CUSTOMERS ORDER HERE
Supporting Video