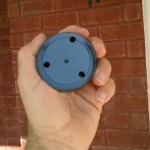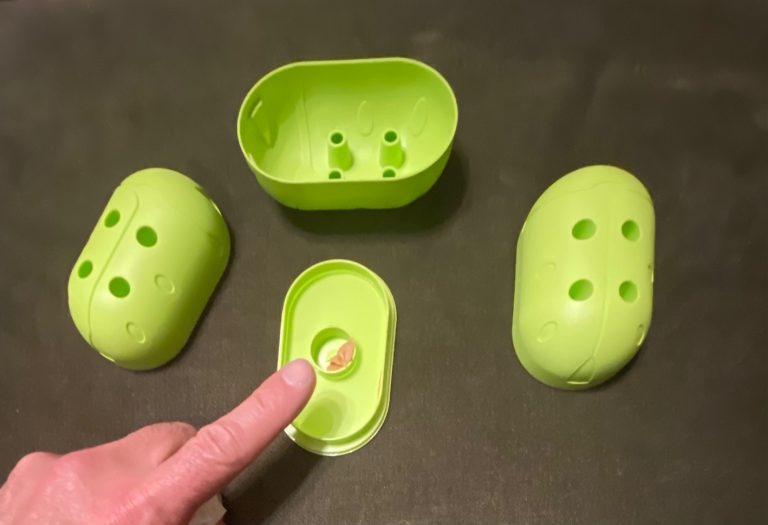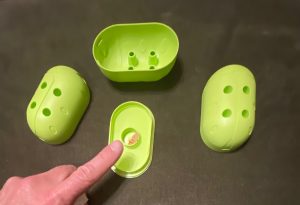 PRODUCT DESCRIPTION: Oval, green plastic "domed" shaped traps used to lure earwigs inside where they can't escape. Earwigs are ferocious feeders targeting protein in the form of dead bugs, meat and nuts. These traps  allow you to bait earwigs using any of their preferred baits and then set them up where earwigs are active.
Traps feature a "moat" you'll need to fill with water and a single "drop" of dish detergent. Next place some peanut butter or nuts in the center cup where you see the finger pointing. This food will lure earwigs inside and once they enter the water, they'll drown.
Traps "snap" apart and together making for easy maintenance and can be used inside and outside the home.
Place traps every 10-20 feet apart once prepared.
WHERE TO USE IT: Outside in the garden, around the home's foundation, inside the home along baseboards, in cabinets and under appliances. Basically anywhere earwigs have been seen.
RATE OF APPLICATION: One trap for every 10 feet of area you suspect earwigs may be active.
REPLACEMENT EARWIG TRAP
$15.00  (3 TRAPS)(826158) (3+ $12.00 each)(FREE STANDARD SHIPPING)
Order online and save 5%