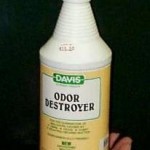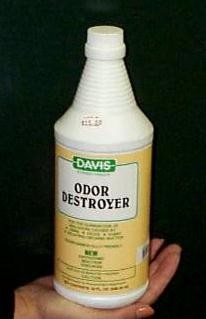 PRODUCT DESCRIPTION: Clear liquid which can be sprayed in suspected odor areas. May be fogged, sprayed with a pump sprayer, or set out in cups or on cotton balls. It works by absorbing the odor molecules and breaking them down. It also has a slight masking agent which is helpful in some situations.  The small product and versatility makes it a good product for small jobs and where the odor may be due to a few reasons.
WHERE TO USE IT: Attics, basements, crawl spaces, walls, and just about anywhere the odor is present. This product can also be applied to bad smelling animals and even added to the laundry to reduce malodor in clothing, blankets, etc.
RATE OF APPLICATION:  This product has a wide range of rates depending on the area you want to treat and whether you know where the problem is located or if its hidden.
For specific spot treating (neutralizing an odor on the floor where there was bodily fluid such as urine, feces or a dead body), use it 1:1 with water or at full strength. For example, when treating a specific spot measuring 10 ft x 10 ft that you know has an odor, 16 oz used at full strength will remove the odor within a day.
For void treating like attics, crawl spaces, wall voids, etc., start by mixing 8 oz per gallon of water and fogging or spraying the mixture over 500 sq/ft of surface area. Give the treatment a day to work and if the odor persists after a day, treat again using 16 oz per gallon. 

RELATED PRODUCTS:       NNZ         N7C        N-100         QUICK ACTION        ROUGH AND READY

RELATED EQUIPMENT:             PUMP SPRAYER        MINI FOGGER        BG2300 FOGGER        RENTAL FOGGER


$20.00   (775232) 32 oz

$50.00   (775233) gallon
Supporting Video