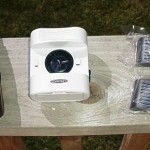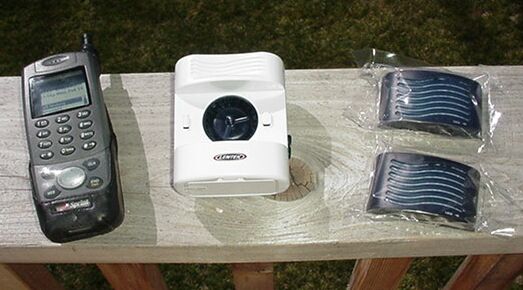 PRODUCT DESCRIPTION: Hard durable plastic device, about the size of a personal pager, which can be attached to ones belt or set out in the open where you want to repel gnats. It features a small fan, which is powered by two AA batteries, that pushes the active ingredient Geraniol out into the air. This scent is naturally extracted from plants and in nature acts as a natural pest repellent. Simply turn the unit on (it has a small on/off sliding switch) and you won't even know the unit is on. Replaceable cartridges will last over 100 hours each and will help keep all types of annoying insects away. Cartridges snap into place in the middle of the device where it displays having the open slot in this picture.
WHERE TO USE IT: This device was designed originally to be used on people attaching to their belt. However, it can be set out on table tops, window sills, around picnic sites and just about anywhere flying biting pests are active.
RATE OF APPLICATION: Each device can protect up to a 15 foot diameter around the person, table, etc. where it is set out. When used indoors, it can protect up to 2000 sq/ft of ground area.
OTHER INSECT REPELLENTS FOR CLOTHING AND SKIN:      BUG BAND TOWELETTES      MAXI DEET 100%      DEET LOTION 20%      DEET LIQUID SPRAY 25%      PERMETHRIN READY TO SPRAY FOR CLOTHING      PERMETHRIN CLOTHING SOAK      PERMETHRIN NON AEROSOL SPRAY      PERMETHRIN AEROSOL      "NO DEET REPELLENT" WITH SUNBLOCK USES ALOE ONLY      BUG OFF AEROSOL DEET      DEET AEROSOL      BUG BANDS
$30.00   (749105)(3+ $25.00 ea)(FREE STANDARD SHIPPING)
Order online and save 5%



$12.00   (2 pack)(749110)(3+ $12.00 ea)(FREE STANDARD SHIPPING)
Order online and save 5%