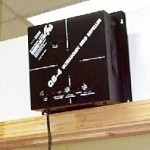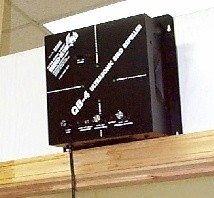 PRODUCT DESCRIPTION: Our Ultra Sound device for birds uses solid state electronic circuitry to product harsh, but harmless, UHF sound waves, targeted to overhead bird infestations. These frequencies are above the human hearing range, so people will not be aware they are even active. Four Piezo ceramic speakers, placed 90 degrees from each other, produce a dispersion of overlapping "fans" of sound for full 360 degree coverage. The Ultra Sound Device may be regulated to produce either a constant or warbling sound transmission. You can also adjust it to rotate speeds. The Device plugs into any convenient 110 volt AC outlet and uses less current than a 10 watt light bulb. It costs pennies to operate a day. You can connect it to a deep cycle battery for remote use on boats and other areas by using a 12 volt to 110 volt voltage adapter. Such adapters are inexpensive and a good deep cycle battery will last weeks. Because the sound waves are adjustable and variable, the sequencing makes it difficult for birds to acclimate. It will effectively keep them away.
WHERE TO USE IT: Ceilings of loading docks, railroad sidings, tunnels, breeze ways, under passes, storage sheds, tents, bistro areas, canopy covered picnic areas and generally any place people will be and you don't want birds to be. Use the Ultra Sound where you need to keep birds away without disturbing the people who will be there.
RATE OF APPLICATION: One unit will cover up to 6000 sq/ft.
RELATED ULTRA SOUND DEVICES:      BIRD BALCONY GARD      BIRD EXPELLER PRO     GOOSE BUSTER      BIRD REPELLER 4 SPEAKER
$550.00   (747798) 110 volt
Order online and save 5%



$600.00   (747799) 240 volt
Order online and save 5%