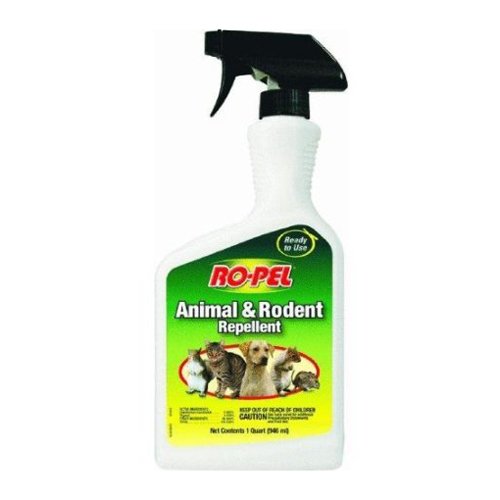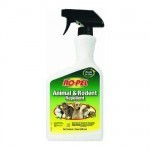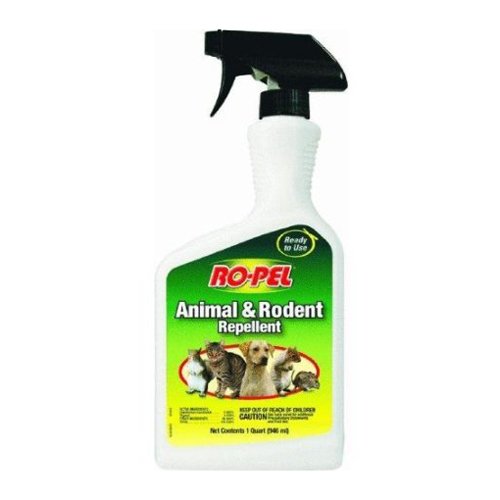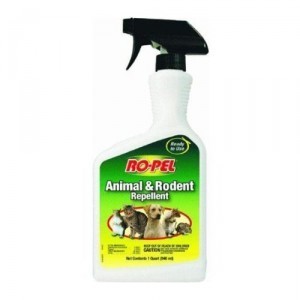 PRODUCT DESCRIPTION: An odorless spray which has a bad taste and will repel nuisance animals and insects from treated surfaces.
***  PRODUCT IS DISCONTINUED ***
BEST REPLACEMENT OPTION FOR ROPEL LIQUID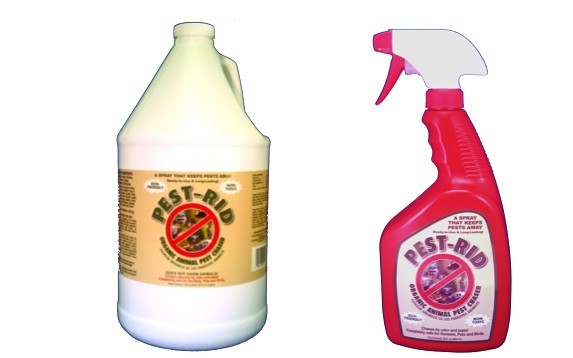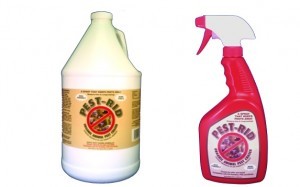 PRODUCT DESCRIPTION: Liquid that uses Federally Exempt actives making it not harmful and safe for use around the home and garden. It works by producing an odor and taste which is disagreeable to a wide variety of home and garden animal and insect pests including but not limited to: aphids, beetles, bats, chipmunks, crayfish, curly tails, deer, ducks, frogs, geese, iguanas, leaf chewers, lizards, mealy bugs, mice, newts, psocids, rats, rabbits, raccoons, scorpions, skunk, spider mites, snails, snakes, squirrels, thrips, toads, white flies and more.
WHERE TO USE IT: Spray PEST-RID thoroughly in all areas where animal pests bask, feed, are seen or there is evidence of their presence such as droppings, claw marks or chewed plants. This includes areas around trees, shrubs, flowers, vegetables, walkways, docks, roof tiles, pool decks, or any place where control is desired. For ground dwelling pests, be sure to apply some PEST RID GRANULES first and then spray over the top with the Pest Rid spray for maximum protection.
In the home, Pest Rid can be sprayed into attics, crawl spaces and other non living spaces where you need to repel unwanted animals or insects. Renew monthly.
RATE OF APPLICATION:  For optimum results on wet areas like pool decks, docks, patios, seawalls, irrigated gardens, and other large areas, a heavier saturation may be required. Initially applying liberal amounts will be most effective. A second, light touch up spray is recommended 2-4 days after the initial liberal application to reinforce the message that pests are not welcome. Animals are creatures of habit and since the product is a safe, natural deterrent, it can take several days to a week until the pests get the message. Re application is recommended to be done weekly till they leave. Once gone, treat every 3 to 5 weeks to make them stay away depending on the severity of the infestation and amount of rain.
Quarts will cover 125 sq/ft; gallons will cover 500 sq/ft.

PRODUCT DOCUMENTS:       SPECIMEN LABEL       MSDS SHEET


$20.00   (455658) 32 oz (Quart w/Sprayer)(2+ $15.00 ea)
Order online and save 5%



$50.00   (455659) Gallon
SPRAYER NEEDED SUCH AS:   TRIGGER SPRAYER     QUART SPRAYER    1 GALLON SPRAYER
Order online and save 5%