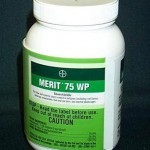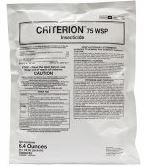 PRODUCT DESCRIPTION:   Wettable Powder mixed with water that works as both a foliar and systemic. For us in turfgrass (including sod farms), landscape ornamentals, fruit and nut trees, and interior plantscapes.
***  SAME % AND LABEL AS DISCONTINUED PRODUCT KNOWN AS MERIT 75% WP  ***
TARGET PESTS: Insecticide to control aphids, scale insects, mealybugs and other sucking pests on ornamentals to limit the honeydew available as a food source for ant populations. It's excellent for use on lawns for Bill Bugs, Adelgids, Aphids, Black vine weevil larvae, Emerald ash borer, Eucalyptus longhorned borer, flatheaded borers (including bronze birch borer and alder borer), Japanese beetles, Lace bugs Leaf beetles (including elm and viburnum leaf beetles), Leafhoppers (including glassy-winged sharp- shooter), Leafminers, Mealybugs, Pine tip moth larvae, Psyllids, Royal palm bugs, Sawfly larvae, Soft scales, Thrips (suppression), White grub larvae, Whiteflies and other pests.
MIXTURE RATE: Varies. See SPECIMEN LABEL for details.
PRODUCT DOCUMENTS:       SPECIMEN LABEL       MSDS SHEET
$50.00   (459188)(4 Pack; 1.6 oz packs)
Order online and save 5%