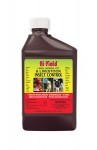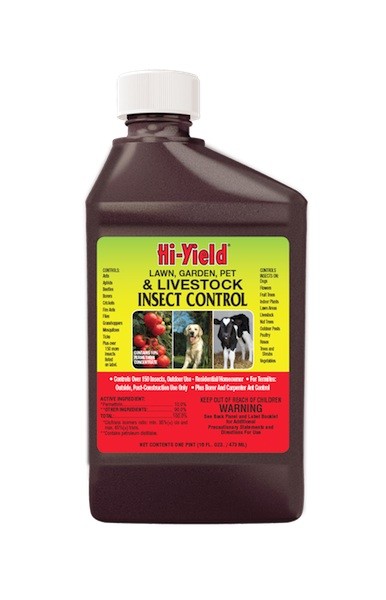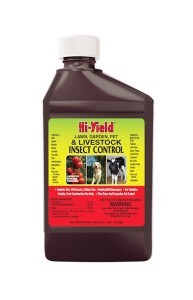 PRODUCT DESCRIPTION:     This Permethrin concentrate is labeled for all kinds of pests for use on all kinds of plants including fruit and vegetables. Odorless and fast acting, it will both kill what is active as well as repel nuisance and destructive insects. This is essentially the same material as the PERMETHRIN 10% used for all kinds of pests in and around the home, yard and garden.
WHERE TO USE IT:       On target plants, shrubs, trees and basically anywhere nuisance pests are active. It can also be used on surfaces where flies and pests come to rest like the side of the home, window screening, trees and kennel areas. Some of the insects it will help to control and repel include (but not limited to) ants, aphids, bagworms, budworms, cankerworms, cicadas, citrus black flies, cluster flies, corn earworms, crickets, earwigs, elm leaf beetles, fall webworms, fleas, fungus gnats, gnats, gypsy moths, house flies, inch worms, japanese beetles, leafminers, leafrollers, moths, oak worms, mealybugs, mosquitoes, noseeums, sandflies, scale, solder mites, spider mites, tent caterpillars, thrips, ticks, tussock moths, whiteflies and over 100 more insects on the label.
RATE OF APPLICATION:   This will vary depending on where you're treating. For example, when treating vegetable or fruit producing plants, 1/4 to 1/2 oz per gallon of water is the recommended rate. When treating pets (dogs) or livestock for biting flies, fleas, ticks, etc., 6 oz per gallon of water used a spray or dip is recommended. And for use on the home or in turf for common perimeter invaders, use 2-4 oz per gallon of water; 1 gallon of mixed material will cover up to 1,000 sq/ft of surface area.
RELATED PRODUCTS:          PUMP SPRAYER         20 GALLON HOSE END SPRAYER        TROMBONE SPRAYER
PRODUCT DOCUMENTS:       SPECIMEN LABEL       MSDS SHEET
$25.00   (455828) 16 oz  (FREE STANDARD SHIPPING)
Order online and save 5%



$35.00   (455829) 32 oz (FREE STANDARD SHIPPING)
Order online and save 5%






RELATED PRODUCTS:    PERMETHRIN 10    PERMETHRIN SFR    PERMETHRIN AEROSOL    PERMETHRIN RTS FOR CLOTHING    PERMETHRIN SOAK FOR CLOTHING    PERMETHRIN NON-AEROSOL RTS


Supporting Video
YouTube responded with an error: The playlist identified with the request's <code>playlistId</code> parameter cannot be found.