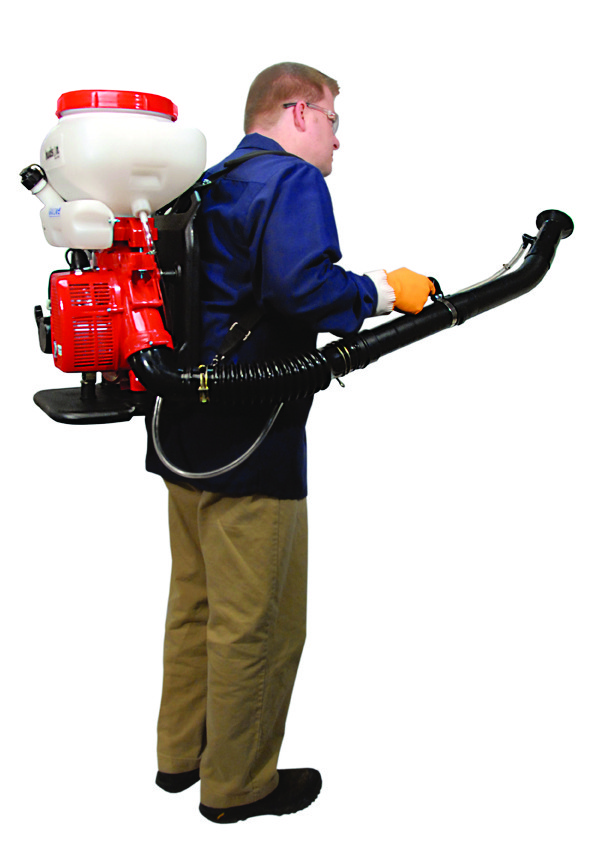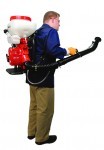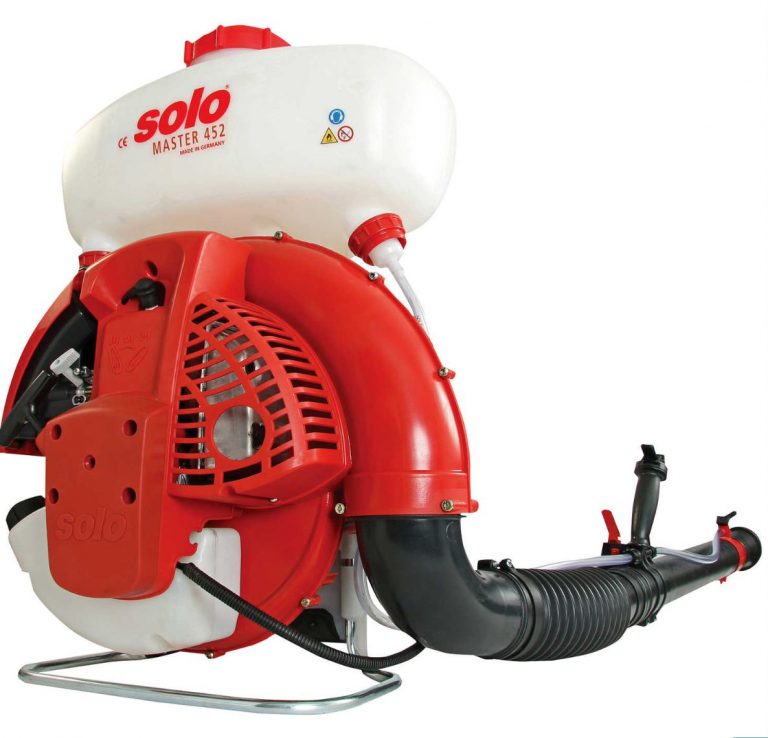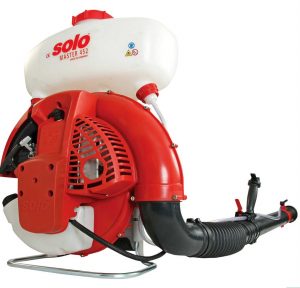 PRODUCT DESCRIPTION:    This is a gas powered back pack fogging machine which has a liquid tank that will hold 3.25 gallons. It is able to pump over 4 ounces of chemical per minute and is great for treating areas where no electricity is available. It's also handy for the applicator who has several locations to treat and needs portability. This sprayer is so powerful and efficient that once you start using it, you will never want to use a regular pump sprayer again!
Mist blowing is extremely effective on flying pests like mosquitoes, gnats, biting flies, midges, noseeums and more. You'll be able to treat large areas in no time, use less chemical and do a more thorough job compared to liquid spraying.
The Solo 451 is very much the "Cadillac" of mist blowers. Its easy to start, very powerful and comfortable to wear.
RATE OF APPLICATION: Adjustable rate of less than an ounce per minute to over 4 ounces per minute. Mist, fog and ULV capable. All tips are included. Can even apply dust. If this is overkill for your needs, go with one of our electric models like the FM 5330 MINI FOGGER, the FM 6308 TRI JET or the FM 6309 FOGGER.
$679.00  (283351)(FREE STANDARD GROUND SHIPPING ONLY)
Order online and save 10%


ALTERNATE BACK PACK MIST BLOWER
PRODUCT DESCRIPTION:   The Hudson Mist Blower is a good entry level machine and for most home owners, a good option if you won't be fogging for long periods of time. Like the Solo, the Hudson will convert liquid to a mist and enable the user to treat large areas efficiently. For the most part the Hudson performs like the Solo but there are notable differences.
The big difference is in comfort. The Solo is very comfortable to use. In fact one almost forgets they are carrying around a 2.5 HP motor on their back. The Hudson is not as forgiving. The 2.4 HP motor will be noticeably louder and the unit vibrates more. If you only expect to be using the machine an hour or less, this shouldn't be an issue. But if you plan on fogging for several hours a week, get the Solo.
The other big difference is in the controls. The Solo has a very easy to adjust flow regulator and throttle. And its easier to start.
OTHER DETAILS:  The Hudson has a 3.5 gallon tank and can be converted to blow dust. The fuel tank is just over 1/4 gallon and it requires standard 2 cycle mixtures (25 parts fuel to 1 part oil). The mist can reach out 35-40 feet (compared to the Solo which will reach out over 50 feet).
SUMMARY:  The Hudson is a good low cost mist blower and will be more than adequate for anyone needing to maintain 2 acres or less. But if you plan on using this tool for more than an hour a day, get the more comfortable and easier to use Solo.
$450.00   (283327)
Order online and save 10%


ALTERNATIVE FOGGERS:     BG 2300     BG 2600      FM 5330 110v      FM 5330 220v      FM 6309 110v     FM 6309 220v      FM 6208 110v      FM6208 220v     FM 7401 ULV      FM 7807 w/16″ EXT 110v        FM 7807 w/16″ EXT 220v      FM 7807 w/38″ EXT 110v      FM 7807 w/38″ EXT 220v      GOLDEN EAGLE THERMAL FOGGER      HURRICANE DYNA FOG 110v
RELATED SPRAYERS:     6 GALLON HOSE END SPRAYER          20 GALLON HOSE END SPRAYER        SOLO 1 LITER SPRITZER       SOLO 2 LITER SPRITZER WITH 23″ EXTENSION        HUDSON ELIMINATOR 1 GALLON PLASTIC SPRAYER        SOLO 1 GALLON HEAVY DUTY SPRAYER          B&G 1 GALLON STAINLESS STEEL SPRAYER W/8″ WAND        B&G 1 GALLON STAINLESS STEEL SPRAYER W/18″ WAND        SOLO STAINLESS STEEL 2 GALLON SPRAYER          SOLO 425-HD BACK PACK 4 GALLON SPRAYER (DIAPHRAM PUMP)        SOLO 5.6 GALLON GAS POWERED BACK PACK SPRAYER          TROMBONE SPRAYER        16 GALLON POWER SPAYING SYSTEM       26 GALLON POWER SPRAYING SYSTEM