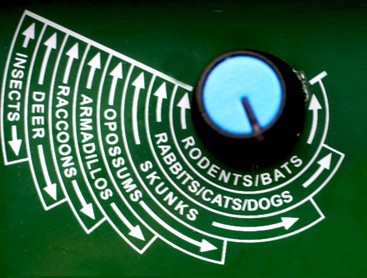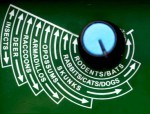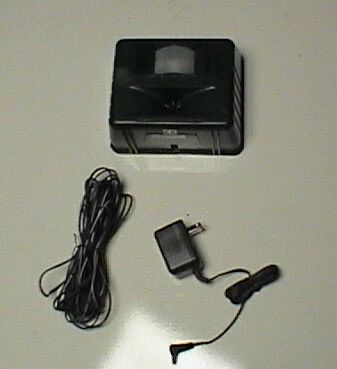 PRODUCT DESCRIPTION:    Small cigar sized box that uses sound to repel nuisance animals. It has features which make it ideal for outdoor applications including a built in motion detector, variable settings, weatherproof casing and the option of running it on AC power or "C" cell batteries. The motion detector has a range of approximately 35 ft x 70 ft but the sound can cover open areas up to 5000 sq/ft.
This unit has a wide range of settings and will prove effective for animals like Armadillo, Bats, Bobcats, Cats, Coyote, Dogs, Deer, Fox, Javelina, Marmots, Mice, Pigs, Rabbits, Rats, Raccoon, Rock Chucks, Skunk and Wild Hogs. It also works for Squirrels.
It comes with an AC power converter that can be used to power the unit via an electric outlet and should be used this way if you wish to run it continuously. The included power cord is over 35 feet long (lengths vary from 35-40 feet) and it can be lengthened if desired (it uses standard 12 volt gauge electric cord and you can easily splice additional lengths to it if you need longer lengths).
You can also power it with 4 "C" cell batteries and when powering it by batteries, you should have it set to "motion detector" monitoring. Since the unit will only use power when activated, the batteries should last several months (don't run it continuously with batteries as this will "kill" the batteries within a week).
The sound settings are adjusted by dialing a rotating switch located on the back of the unit (see video below for complete directions and a demonstration). Target animals are all listed on the unit and can be "dialed" in as needed.
The sound travels in the path much like the light coming from a flashlight; its approximately 45 degrees wide. Think of the path like a slice of "pizza"; the tip of the slice would be where the sound starts and by the time it reaches the "crust", its about that wide. Now in open areas with no vegetation, the width is wider. Maybe 60 degrees. But if there is a lot of undergrowth, shrubs, bushes, etc. the sound waves will get broken up, distorted and effectively reduced.
There is also a slide switch for power options. These settings include Off, AC only and AC/Battery. When set to AC/Battery, the unit will use the batteries when electricity is not available so use this setting if you intend on powering it by batteries. This unit is weatherproof and should be installed where pest animals are actively seeking food or harborage.
PRODUCT SIZE:     7" Wide by 6" Tall by 4" Deep.
WHERE TO USE IT: Ultra Sound is a sound which many animals can hear but has limitations. First, it is very much directional. This means you must be directly in it's line – much like a beam of light from a flashlight – to hear it.
Second, Ultra Sound does not penetrate anything solid. This means it cannot go through walls, plants, around buildings, etc. It is effective only in the area directly in front of where a unit is placed and depending on the placement, anywhere from 1000 to 5000 sq/ft.
Third, Ultra Sound has a wide frequency range and generally one range which might bother one animal will not bother another. For this reason any good unit will either emit a variable sound pattern or allow you to adjust the setting.
Fourth, do not use these to protect any kind of food in the yard. Fruits and vegetables – especially those grown in the garden – will be too attractive for most any animal to ignore and they will usually forego the discomfort of sound to get a good meal.
** SPECIAL NOTE ABOUT PETS **   The use of Ultra Sound cannot injure animals including pets. As explained above, the sounds emitted will make certain animals uncomfortable and want to move elsewhere. But the range of sound is variable and specific. That means if you are trying to repel rats or bats and dial in that setting, dogs and cats won't mind the sound even though they can hear it.


TARGET ANIMALS:      Armadillo, Bats, Bobcats, Cats, Coyote, Deer, Dogs, Fox, Javelina, Opossum, Mice, Rabbits, Raccoon, Rats, Skunk and Squirrels. Set the unit in the range of your target animal and vary the setting by adjusting it every 5-7 days. Here's a closeup of the setting know with target animals listed: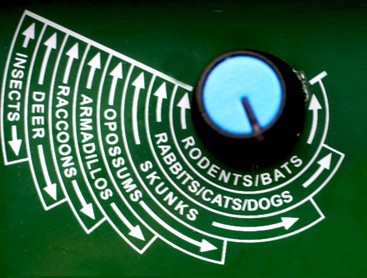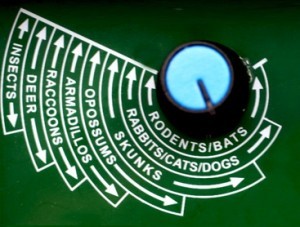 RELATED DOCUMENTS:      DIRECTION MANUAL

RELATED ULTRA SOUND DEVICES:    ANIMAL AWAY     ATTACK WAVE     CAT STOP      TRANSONIC


$60.00   (747788)(3+ Units $50.00 ea)
Order online and save 5%


INTERNATIONAL CUSTOMERS ORDER HERE
Supporting Video