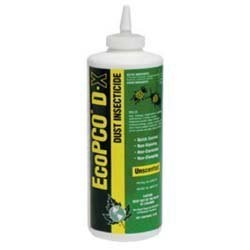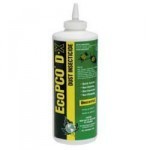 PRODUCT DESCRIPTION: Odorless dust, much like the consistency of baby powder, which is very active against a wide range of pests. Using phenethyl proplanate and pyrethrin as actives, this dust is quick to act and unscented. Treatments will last 60-90 days when made to hidden voids and spaces.
TARGET PESTS:    Ants, bedbugs, carpet beetles, centipedes, cockroaches, crickets, darkling beetles, earwigs, hide beetles, firebrats/silverfish, fleas, millipedes, sowbugs/pillbugs, spiders, scorpions, and other indoor/outdoor crawling pests. Also effective on wasps, yellow jackets and bees.
WHERE TO USE IT:   Like any dust, ECO DX is best used in attics, crawl spaces, wall voids and hidden areas out of sight and direct sunlight.
RATE OF APPLICATION: 10 oz jar can treat up to 1000 sq/ft of area. Apply every 6-12 months for maintenance; once every 3 months when insects are active and problems ongoing.
PRODUCT DOCUMENTS:       SPECIMEN LABEL       MSDS SHEET
$12.00   (743693) 10 oz. (3+ for $10.00 ea.)
Order online and save 5%


Supporting Video