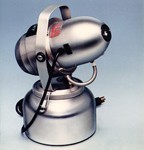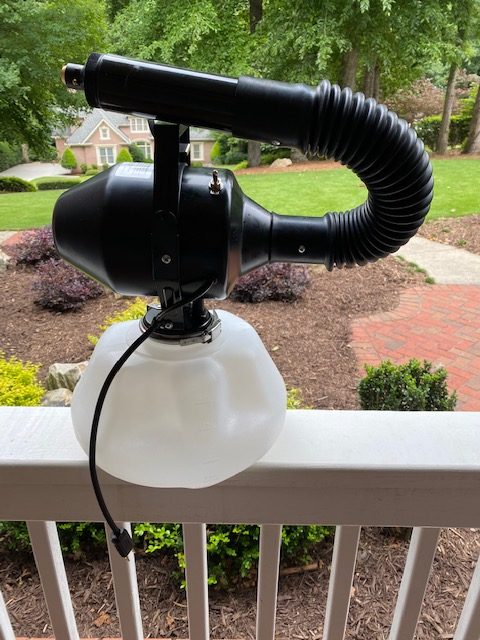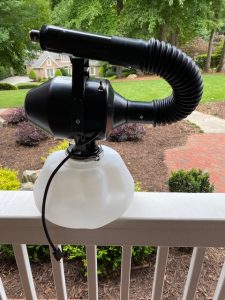 PRODUCT DESCRIPTION:    Electric fogging machine used to convert water or oil based formulations to a mist. This mist is then directed over an air space where mosquitoes, gnats, noseeums or other pests are active. The mist or fog will quickly kill targeted pests and blanket the vegetation and all surfaces quickly and efficiently. This allows the user to get the job done in a fraction of the time it takes to spray the same area using a liquid. It also reduces the amount of chemical needed by 50% or more.
This machine will flow fog at a rate of 4-12 oz per minute. It has a simple "low-medium-high" setting  and will produce particles that range in size from 25-40 microns.
WHERE TO USE IT:  Property owners needing to treat up to an acre will find this machine powerful enough for the job even though its electric. Anything larger than 1 acre should be treated using our BACK PACK MIST BLOWER.
RATE OF APPLICATION: 9-10 ounces per minute; treat 1 acre in 10-15 minutes.
SUPPORTING VIDEO
RELATED OPTIONS:         FOGGER TURNTABLE
ALTERNATIVE FOGGERS:     BG 2300     BG 2600      FM 5330 110v      FM 5330 240v      FM 6309 240v      FM 6208 110v      FM6208 240v     FM 7401 ULV      FM 7807 w/16″ EXT 110v        FM 7807 w/16″ EXT 240v      FM 7807 w/38″ EXT 110v      FM 7807 w/38″ EXT 240v      GOLDEN EAGLE THERMAL FOGGER      HURRICANE DYNA FOG 110v      SOLO BACK PACK FOGGER

$250.00   (282293)(110 Volt)
Order online and save 5%



SAVE $39.00 on our FOGGER AND BITHOR KIT – GREAT FOR GNATS, MOSQUITOES, NOSEEUMS AND ALL CRAWLING PESTS TOO!!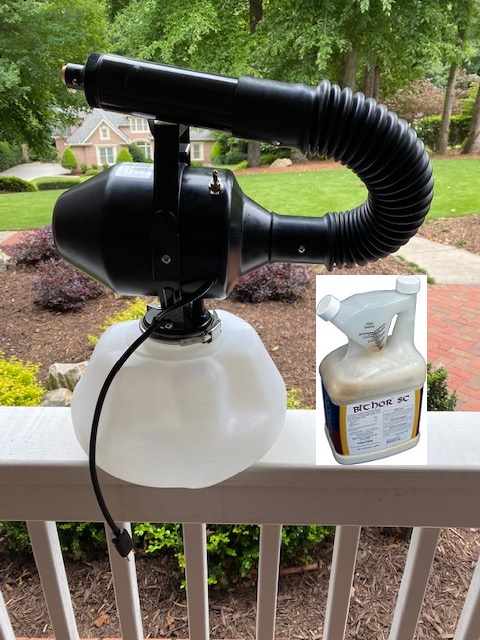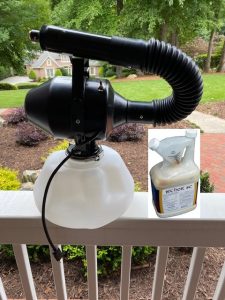 $309.00 (282282)(110 Volt)(SAVE $39.00 BUYING THE MOSQUITO FOGGING KIT!)
Order online and save 10%