| | |
| --- | --- |
| | www.bugspraycart.com/wp-content/uploads/yard/herbicide/msma-herbicide/954255.jpg"> |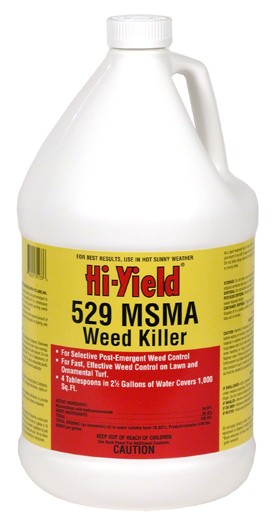 PRODUCT DESCRIPTION: Liquid that is added to water and sprayed out to kill unwanted grassy weeds. This formulation does a good job of targeting growth like crab grass, dallis grass, weedy fescue, goose grass, etc. and can be sprayed out over good grass like Bermuda without risk or impact to the good grass. It will even work on nutsedge though 2 treatments are usually needed for this stubborn weed.
WHERE TO USE IT: Though it can be used in many areas, MSMA is most commonly used in turf grass where unwanted grassy weeds are active but the main grass is still wanted.
RATE OF APPLICATION:  1.5 – 2 oz per gallon per 1000 sq/ft of turf. Quarts can treat up to 20,000 sq/ft; gallons can cover almost 2 acres.


***  PRODUCT DISCONTINUED AND NO LONGER AVAILABLE  ***


ALTERNATE PRODUCTS:        DRIVE XLR8      FUSILADE II        WEED-OUT WITH QUINCLORAC