| | |
| --- | --- |
| | www.bugspraycart.com/wp-content/uploads/traps/conibear/victor-conibear-280/822706.jpg"> |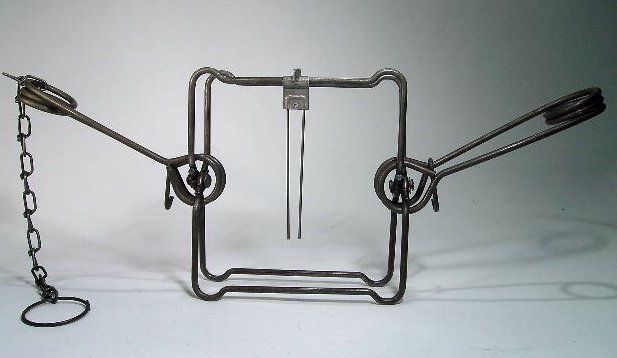 TRAP DESCRIPTION: Oneida Victor Conibear brand which are known as the "Cadillac" or original bodygrip style trap brand. Bodygrip traps are the traditional body crushing trap used by professional trappers. This is the 280 and it has a double spring.  Bodygrip Traps are square, heavy steel traps and with the two springs are designed to hold strong animals. The Victor Conibear traps also come in different sizes. These traps are true kill traps.
WHERE TO USE IT: Outside where nuisance wildlife is a problem.
OTHER SIZES:     BODY GRIP 55       BODY GRIP 110      BODY GRIP 120      BODY GRIP 160      BODY GRIP 220      BODY GRIP 280      BODY GRIP 330      BODY GRIP 330 EVEN JAW      CONIBEAR 110      CONIBEAR 120      CONIBEAR 220      CONIBEAR 330
RELATED ACCESSORIES:      SETTERS BASIC      SETTERS DELUXE      SETTERS ROBBIES      SAFETY GRIPPERS      TRAP DIE BROWN      TRAP DIE BLACK
TRAP STANDS:       BUCKET GUARD 160       BUCKET GUARD 220       220 TRAP STAND       330 TRAP STAND         18" STANDING MOUNT 220/330       WINDOW MOUNT 220/330       SUPER STAND 46" 330
RELATED TRAPS:      LONG SPRING 0      LONG SPRING 1      LONG SPRING 1.5      LONG SPRING 11      LONG SPRING 2      LONG SPRING 3      LONG SPRING 4      LONG SPRING 5      LONG SPRING 15 BEAR TRAP      LONG SPRING 16 BEAR TRAP      COIL 1      COIL 1.5      COIL 1.5 PADDED      COIL 1.65       COIL 1.75      COIL 2      COIL 3      COIL 3 PADDED      COIL 5      COIL 1.75 OFFSET      COIL 2 OFFSET      COIL 3 OFFSET      COIL 5 OFFSET
$30.00   (822706)(12+ Traps $27.00 ea)
Order online and save 5%


INTERNATIONAL CUSTOMERS ORDER HERE
Supporting Video
Title

Runtime

4:13

View count

221,978
Title

Runtime

4:21

View count

20,600