PRODUCT DESCRIPTION:    Time released granule which will last for 1 – 2 months when applied to the turf around the home. All natural and pleasant smelling, they will blend into the turf on which they are applied and gradually release their scent down into the soil through where moles tunnel. The odor is offensive to moles so they tend to stay out of treated soil.
WHERE TO USE IT: Anywhere moles, voles, armadillo or other burrowing pests are active. Since they take awhile to start working and need to be watered to start the process, spraying the WHOLE CONTROL over the top will help get faster results.
Whole Control will start to work immediately and the water sprayed out will serve to activate the granules as well. This one two punch is the best repellent combination you can use for any target pest.
TARGET ANIMALS:     Moles, Voles, Armadillo, Ground Squirrels and more.
RATE OF APPLICATION: Use one pound (1 lb) per 1000 sq/ft of area; apply every 1-2 months throughout the year when animals are active.
PRODUCT DOCUMENTS:       SPECIMEN LABEL       MSDS SHEET
$15.00   (743451) 4 lbs
Order online and save 5%



$30.00   (743452) 10 lbs
Order online and save 5%



We also have the old Dr T's Mole Out available in 25 lb pails too. Works on the same group of animals; coverage is half as good (1 lb per 500 sq/ft).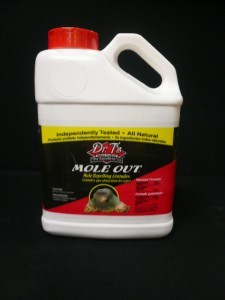 $75.00   (743453) 25 lbs
Order online and save 5%