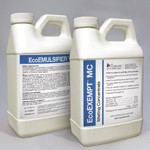 * Effective against mosquitoes, gnats, flies & other flying insects
* For automatic misting systems and compressed air sprayers
* Quick knockdown/kill
* Residual protection
* Non-staining
* No phytotoxicity
* No drift or aquatic concerns – can be used safely around boats, streams, ponds and other water areas
* Safe for use around children and pets
* Provides a stable micro-emulsion for up to 90 days with no agitation required.
TARGET PESTS: Mosquitoes, gnats, flies and other biting/nuisance insects including spiders.
PRODUCT DIRECTIONS:   Mix 1.25 of Misting Concentrate with 1 gallon of water and then add 1.25 oz of EMULSIFIER. The Emulsifier must be added to enable the concentrate to mix properly and remain stable. Once mixed with water, the finished gallon should treat 1500-2500 sq/ft.
PRODUCT DOCUMENTS:       SPECIMEN LABEL       MSDS SHEET
$100.00   (455278) 1/2 gal. (3+ for $83.33 ea.)
Order online and save 5%





EMULSIFIER ADDITIVE - MUST USE EQUAL PARTS OF EMULSIFIER WITH MISTING CONCENTRATE 
$80.00   (451009) 1/2 gal
Order online and save 5%


Supporting Video