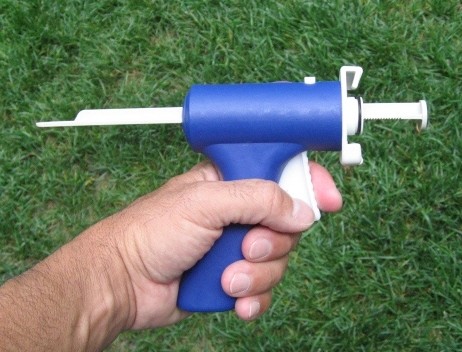 PRODUCT DESCRIPTION: All of the major bait manufactures in the pest control industry package their baits in the 30cc Cartridges.  This blue bait gun is an effective and affordable solution for dispensing these baits.  So affordable in fact that many homeowners are purchasing them as well.  It makes the work of applying baits so much easier why not?  The gun allows for specific placements into cracks and crevices without over application or waste so it essentially pays for itself.
WORKS WITH THE FOLLOWING BAITS:  ADVION ROACH GEL     GOURMET ANT GEL     MAXFORCE ANT GEL     MAXFORCE CARPENTER ANT GEL      MAXFORCE MAGNUM ROACH GEL      MAXFORCE ROACH GEL      OPTIGARD ANT GEL
$40.00   (281301)
Order online and save 5%



Supporting Video
Click thumbnails and a small player will open to play each segment. Must have "pop ups" enabled.